With outdoor dining, all roads lead to re-opening
New approaches to dining in public spaces are giving cities around the world the chance to embrace post-COVID outdoor life.
Urban spaces are changing. From the evolving trends monitored by Host Insights, it is clear that the coronavirus emergency has effectively changed not only our lifestyles, but also the faces of our cities, forcing us to reconsider the importance of our shared spaces. At different times and speeds, depending on the situations they face, cities have started coming back to life, with re-openings and new formats. Cafés and restaurants have expanded their outdoor areas to ensure a safe re-opening for their clients and staff, thanks to new public space occupancy legislation enacted by the authorities.
At the same time, this has led to a process of improvement of public spaces and the promotion of new and exciting projects for outdoor areas. A variety of furnishing companies have diversified their production to offer dynamic solutions for the current situation, including partitions made of recycled materials, eco-trendy and garden design structures, and fabrics and coatings that are easy to clean and sanitize.
Please, take a seat!
The world of outdoor furnishings is keeping step with demand from food service and hotel industries by using eco-friendly materials which are easy to maintain and resistant not only to the weather but also to the solvents now used to clean them several times a day. For example, Italian company Calligaris says it has included polypropylene chairs for the outdoors, in 100 per cent recycled material using the RE-LIFE technology, in its new 2020 product line-up. This technology makes it possible to make eco-friendly products which can also be recycled at the end of their life cycle.
Technical research and selected materials combined with continual studies of the relationship between form and function have led to the creation of chairs and accessories which are extremely flexible, like those offered by SCAB Design. An example is the three-spoke Tripé table, whose steel base with die-cast aluminium junction is in fact not a traditional monobloc but is made up of several elements that can be diversified and replaced according to need, making it ideal for use both indoors and outdoors.
Another example are partitions by KE Outdoor Design, which offers protection and distancing in restaurants, hotels, boutique hotels and other hospitality facilities. In particular, it responds to the need to increase the space available to clients while guaranteeing safety and still offering a stylish look. The demand for ever greater guarantees of hygiene and sanitization of surfaces and rooms has led the same company to create a genuinely innovative solution: an integrated atomiser system for arbours. The project combines a variety of new functions: cooling, sanitisation, dispensing of mosquito repellent and aromas, and ensures that outdoor spaces are always protected and hygienic.
Canada and the U.S.: city spaces in transformation
Thanks to government support and the decrees enacted in recent months to increase the licensing of public spaces, many food service and hotel industries have been able to increase their usage of outdoor areas and open up their activities. Streets, parking lots and public squares are now populated with chairs and tables, cities have come back to life and many architects and designers are actively engaged in designing new spaces for conviviality.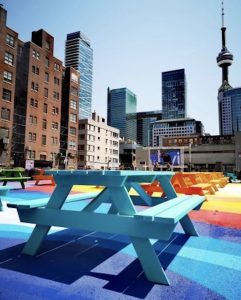 San Francisco has seen the emergence of Parklets, an idea from 2010 consisting of using parking lots as outdoor restaurant areas, as well as small spaces for relaxation bordered by trees and plants, creating shady leisure areas surrounded by greenery. In New Orleans city council launched a pilot project called "Curbside Dining and Parklets" which will enable restaurants to expand their seating to streetside parking spaces. Especially creative solutions have been seen in New York: the Brooklyn Pizza Market has created unique partitions made of recycled tin can flowerpots, while Café Grumpy on Seventh Avenue at Park Slope is using shipping pallets to close off its dining areas. Here too the city has created an action plan, called Open Streets, which closes off 67 miles of roads to traffic at the weekends, making space for 2.6 miles of Open Restaurants on the sidewalks and streets. The same idea, but here called CafèTo, has been implemented in Toronto with the support of the local authorities, with the aim of helping café, pub and restaurant owners to open up socially distanced outdoor areas for their guests. The city has published guidelines for the installation of "temporary structures" in the area outside a business, which also show a map of the city highlighting areas which have adopted the concept.
Dedicated to a detailed review of the new ways of conceiving outdoor areas around Baltimore – but applicable in general to any city – the "Design for Distancing Ideas Guidebook" from the Johns Hopkins Bloomberg School of Public Health covers a collection of projects from architects and designers offering concrete, low environmental impact solutions for safe social interaction. An analysis run by Host Insights of changes in the United States offers a number of examples: the "inFRONT of House" concept features ideas for opening an outdoor restaurant with a variety of possible layouts; designer Christopher Odusanya, in his personal vision of new city spaces, creates circular islands for installation in squares, streets and parking lots which can be used for yoga, relaxation, meeting other people and even selling food, an idea which is echoed by "Organizing the Street" from Craig Stoner and Terri Wu (EDSA), who envisage a pedestrian footpath on the street, surrounded by outdoor restaurants and sidewalk businesses. The "Food Court" project, on the other hand, proposes converting some white land areas into places for lunching and dining outdoors. These are just a few of the proposals for rethinking the city, and the best projects will soon be implemented in 17 districts of Baltimore, supported by an investment of $ 1.5 million from the city council.
In Milan, everyone is outside, while in Rome terraces are full
The Italian fashion and design capital, which is also the location for HostMilano (with its 42nd edition scheduled for October 22 to 26, 2021), is the stage for a variety of solutions integrating the indoors with the outdoors. More than 2,000 businesses have made use of their outdoor areas – made available free of charge by the city council up to October 31 – to provide seating and tables that combine safety and hospitality. Outdoor areas have reached a total coverage of 45,000-sq.-m., thanks in part to the 6,500-sq.m. of pedestrian areas and 30 kilometres of streets with speed limits at 30 or 15 km/h. Voce, the historic Milan two-star restaurant Aimo e Nadia, has expanded into the courtyard of the Gallerie d'Italia with an offering that includes a cocktail bar set between works of art by Jean Arp and Joan Mirò and an installation by designer Michele De Lucchi. Eataly Smeraldo, with its large outdoor area in Piazza XXV Aprile, aims to welcome its clients with socially distanced tables. Imàgo, a Michelin-starred restaurant in Rome's iconic Hassler Hotel, has moved to the terrace of a suite on the seventh floor. "I took this step to assure greater safety to our guests and staff," says the hotel's owner and managing director Roberto Wirth. "And I have to say that it's a gift for our guests: a top-quality dinner under the stars, with the beauty of Rome at their feet."
From the boulevards of Paris to the mini-greenhouses of Amsterdam
The street is a leading light in this time of re-opening and sharing open spaces. And the Ville Lumières is no exception. The city council, to help coffee bars and restaurants deal with new regulations and re-open their businesses, has allowed them to occupy their surrounding outdoor areas until September 30, a measure which may be extended throughout the autumn in response to demand from business owners. Here, too, tables and chairs occupy sidewalks, squares and parking spaces as well as a number of streets which have been closed to traffic for the first time, while others have had their speed limits reduced. The current health situation also seems to have contributed to implementing a number of green mobility projects: the measures approved by mayor Anne Hidalgo include new cycle paths, free public transport for under 18s and the objective of making Paris a "15-minute city" so that all residents can find the services they require within 15 minutes of their homes. One big success of the Parisian summer were the urban vegetable gardens, which bloomed throughout the lockdown not only on balconies and roofs but also in abandoned areas, and which acted as places for meeting and socialising outdoors. Thanks to the Parisculteurs programme, some businesses have been able to open their doors once more, like La Caverne, which converted an abandoned underground carpark into a vegetable garden, or La Ferme Urbaine, a vegetable garden on the terraces of Hall 6 of Paris Expo Porte de Versailles. Le Perchoir, a concept with five addresses around the capital, was among the most interesting debuts of the post-COVID era, a café and restaurant with a menu featuring fruit, vegetables and hydroponic and aeroponic herbs grown in-house. The trend for outdoor spaces has also involved elevated locations: roofs, often in iconic settings, are the most fashionable outdoors areas at the present time, like Laho at the Gare de Lyon, the terrace with a view of the Tour Eiffel at the Musée Guimet, Créatures, the vegetarian restaurant on the terrace of the Galeries Lafayette Paris-Haussmann and La City on the 35th floor of the Grande Arche of La Défense, situated 110 metres above street level.
Meanwhile, new eco-trendy partitions are conquering the capital of the Netherlands: the Eten restaurant at the Mediamatic Foundation has installed a series of mini-greenhouses to keep diners at a safe distance from each other, allowing couples and groups of up to four persons to dine in an intimate atmosphere of complete privacy.
We will have to wait and see whether these changes are long-lasting or not. At the moment, the solutions supported by governments and local authorities, often made concrete with the help of architects and designers interested in redesigning urban spaces, have resulted in green policies and increased the green areas in cities, expanded pedestrian areas and promoted the use of alternatives to private cars.