Pearson Lloyd creates a stairlift for the design generation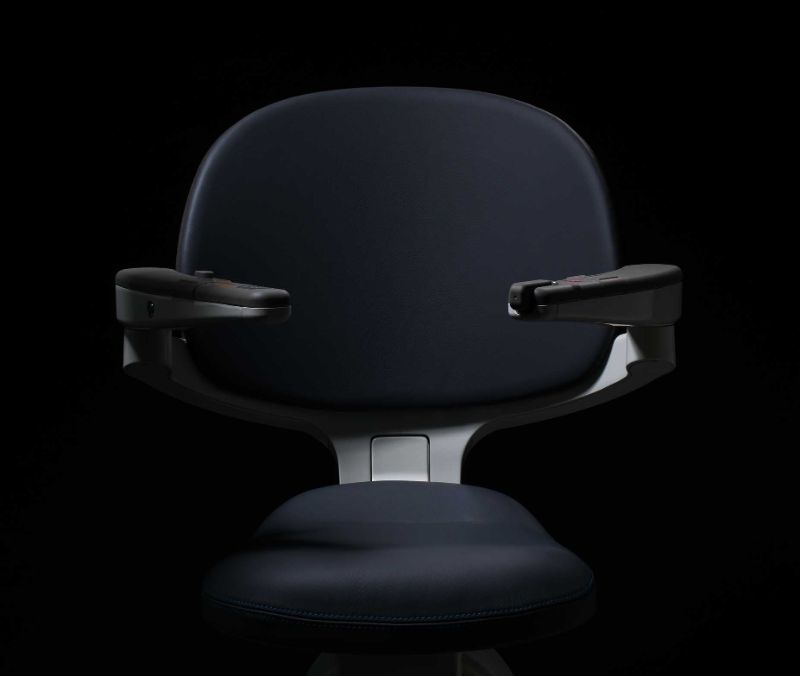 Stairlift technology has emerged from a legacy of awful television commercials in the early 1990s that became the butt of endless jokes and is now the focus of a cadre of industrial designers that bring with them some serious clout and a bevy of design awards to their credit. Specifically, we're talking about the unveiling of Flow X by London-based design firm Pearson Lloyd, developed for mobility specialist Access BDD, a division of the global tech company TK Elevator.
This new stairlift weighs design aesthetics and user experience in equal measure. In fact, a variant of the Flow X – the S200 for TK Home Solutions BV – turned heads at the Red Dot Awards, earning it a Red Dot Award: Product Design 2021. Featuring the same design, structural platform and innovations as Flow X, S200 was packaged for a separate market with a different aesthetic, trim and finish offer.
For most design studios, designing a stairlift is far from the top of their to-do list – but that is precisely what attracted Pearson Lloyd to the project. Today's design world focuses on the creation of attention-grabbing, marketing-driven products, rather than solving real-life problems. As a result, aesthetic and user-centered innovation in less glamorous product categories such as medical and mobility tends to come slowly, if at all. A stairlift is a product of necessity, not aspiration. Few people actively want a stairlift in their home so, historically, few studios have wanted to design one.
The Flow X design is the result of Access BDD's international competition to find a design team to create the next generation of stairlift. As the winning agency, Pearson Lloyd saw opportunities both for user-centered design and to aesthetically reinvent an overlooked product, hoping to overcome the wider stigma attached to the stairlift by both designers and consumers.
Putting the user first
In many ways, Flow X is a response to a growing generation of discerning, design-aware, tech-literate seniors. Patented ASL (Advanced Swivel Levelling) technology ensures the seat and footrest rotate together, maintaining optimal distances between the chair and the staircase and enabling the user to get on and off without twisting their body. A unique folding mechanism (with automatic and manual options) at the heart of the design means that the chair takes up minimal space on the stairs when not in use, and, importantly, allows the user to park the stairlift without bending the back and knees.
Flow X's arms unfold to provide support for sitting and standing and can unfold fully to allow side access from a wheelchair. All user-operated controls are located on the arms, which rotate from an elevated yoke attached to the chair's central spine and curved, supportive backrest. The resultant space beneath the arms allows freedom of the legs and hips while the user is seated.
The controls have been designed to be as simple and intuitive as possible. The joystick can be manipulated by any part of the hand or wrist, and the buttons and indicator lights have been placed to be visible and operable in any position. Flow X also incorporates a built-in call function that allows three phone numbers to be programmed in, enabling users to contact family, friends, and medical/care teams. They can also answer incoming calls while the chair is moving.
Changing minds, improving lives
Like many mobility and medical products, stairlifts have historically been heavily engineered solutions, with little priority given to design, aesthetics or comfort. This has often resulted in a poor user experience that has discouraged the less able-bodied from installing stairlifts until the need has become unavoidable – usually after repeated falls and injuries. Often, individuals prefer to give up the family home and move to single-level living spaces rather than stomach the stigma of a stairlift.
By focusing on the user experience and optimizing what is possible from an engineering perspective, Pearson Lloyd and Access BDD have created a product that people needn't be ashamed to install in their homes, enabling them to retain their independence and stay there longer. Given that remaining in one's own home statistically produces better longevity outcomes and quality of life than going into care, anything that can be done to increase the acceptability of stairlifts is hugely beneficial.
Considering that the population of adults aged 60 and over is growing rapidly, and will soon exceed that of under-fives, it is time designers shed their assumptions that the market is primarily young and able-bodied and instead turn and meet the physical and emotional needs of this increasingly independent audience.