A Look Back: Bar Raval, 2015 Best of Canada Project of the Year
The 2015 Project of the Year is Bar Raval in Toronto, which the judges described - in a rush of animated, enthusiastic voices - as "a tour-de-force crafts display, where the craft makes the space, the star" and "an enveloping environment, a sensual mystery" and "a little jewel box, every inch of it designed."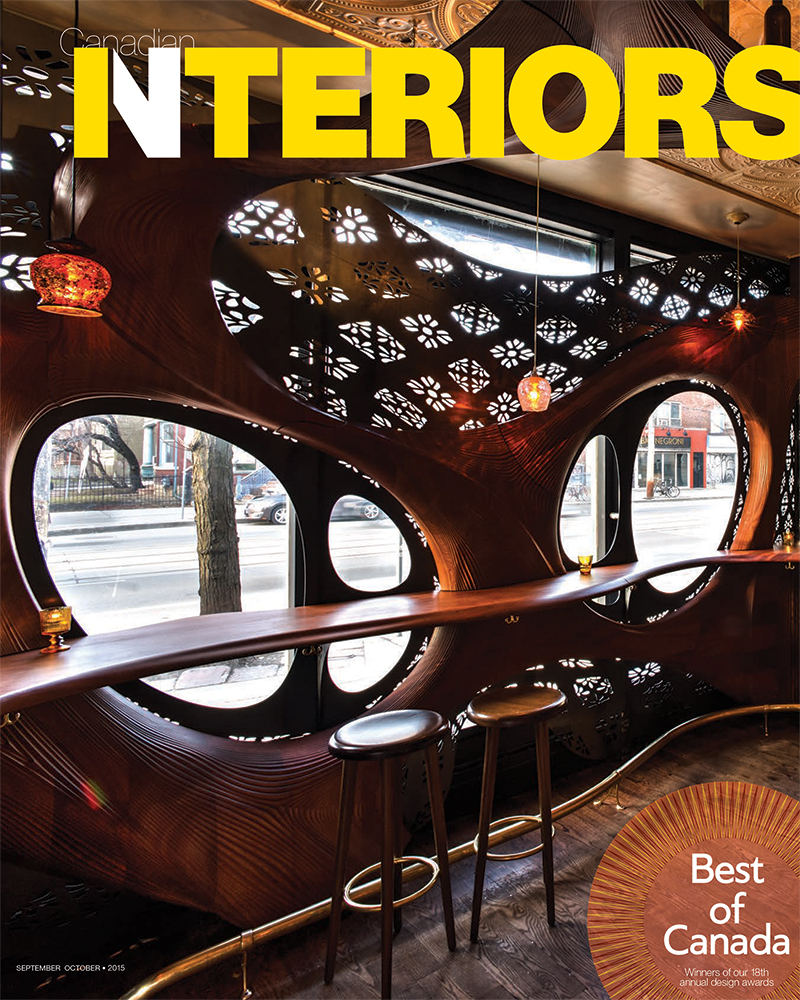 The organic, biological-looking forms of Spanish Art Nouveau architect Antoni Gaudí remain ever influential. In the wrong hands, the curvy, antirectilinear formal vocabulary of Gaudi's iconic Casa Milla, Parque Güell and the Sagrada Familia cathedral in Barcelona devolves into kitsch. Partisans avoids this pitfall though rigour and a disciplined vision of its elf-proclaimed "21st-century reinterpretation of Spanish Art Nouveau."
Bar Raval, located on College Street in Little Italy, is not just a bar, but also a casual restaurant for 40 standees (there is no seating) that introduces a cuisine from northern Spain known as pincho, wherein a small, tapas-like snack is toothpicked to a piece of bread. The client is the resto's chef, the well-known Grant van Gameren (owner of nearby Bar Isabel, late of the Black Hoof) and resident mixologists Mike Webster and Robin Goodfellow. They approached Partisans co-founders Pooya Baktash and Alex Josephson, and partner Jonathan Friedman, to create an "art piece" eatery that would elevate the status of the mixed drink. Accordingly, the designers masterminded every detail, from drip trays, gutters and stools to brass foot rails, vent covers, metal window screens and acoustic panels.
The big design idea is a lattice or shroud "carefully hewn from what look like unbroken Möbius strips of sinuous mahogany," in the designers' words, that envelops and transforms the boxy base-building space into an environment that blurs distinctions between walls and ceiling. The mahogany shroud loops around the entrance and windows and accretes around the bar like wisteria on steroids. Discreet fruit bowl-like recesses in the countertop front function as drink holders. Polished, smooth areas of the shroud alternate with surfaces incised with parallel lines evoking the swirls of a topographical map or the ventral grooves running along the lower jaw of a humpback whale, as in Pacific Life insurance's logo. A stunner.