Felt: Acoustically and Sustainably Sound
From acoustic management to unique aesthetics, felt ceilings offer hospitality designers an expanding world of options, while decreasing environmental impact.
From our days spent in the art room at school, most of us will remember felt as a material used in many types of projects. You might even be at home right now helping your children or grandchildren work on felt arts and crafts. Regardless of your experience with felt, you know it as an extremely versatile material. It can be molded into shapes, used to upholster panels, and has helped blend the worlds of residential and commercial design long before "resimercial" was an industry term.
As the architecture and design industry continues to demand alternative materials that marry sustainability with acoustic control, hospitality designers can answer the call with felt. Blending a warm aesthetic with superior acoustic performance, felt is becoming a go-to choice. Whether creating inviting guest rooms, energetic ballrooms spaces, or striking lobby areas, felt allows designers to manage acoustics while incorporating unique shapes, colours, and finishes. This beautifully soft material tells a unique sustainability story by leveraging recycled materials and adding to a building's green footprint, and therefore increasing the likelihood of securing LEED certification. It also allows designers working on hospitality projects to create visual artwork within these spaces.
Designing Sustainable Ceilings and Walls Never Felt So Good
Felt products offer the feeling of comfort and well-being while meeting the growing industry demand for sustainable building products. Wool felt is a natural product and features a manufacturing process that has very low environmental impact. And wool felt is only one option in this category. Recycled materials factor heavily into the production of many felt ceiling products. Some manufacturers offer 100 per cent recyclable felt products made from 60 per cent recycled PET content, including post-consumer recycled plastic bottles. These products are functionally identical to non-recycled felt and provide the same array of benefits to interior spaces.
Specifiers can find felt ceiling systems that are GREENGUARD Gold Certified and contribute to LEED V4 credits in four categories, including Building Product Disclosure (MR), Low-Emitting Materials (EQ), Indoor Air Quality Assessment (EQ) and Acoustic Performance (EQ).
Creating Acoustically Comfortable Spaces
Natural or recycled, felt provides a distinctive appearance, creative freedom, as well as excellent sound absorption properties. Not only does felt meet sustainability needs, it helps to solve the complex acoustic challenges of increasingly common open plenum spaces.
Felt is composed of compressed fibers, varying in both thickness and density. Because of its fibrous nature, pockets of air are present within the material, allowing for sound to be absorbed. This means that felt products often boast a high noise reduction rating, up to .85 NRC.
Felt ceilings are ideal for guestrooms, as this space is critical to overall comfort during stays, when sound absorption is most important. Ballrooms and corporate meeting spaces are designed to host a large range of events, from weddings to trade shows. Felt can help manage acoustics within these large crowds to limit noise transference and increase speech privacy. Similarly, high-traffic hallways serve as a connector for the overall interior design, while guiding guests to their next experience within the space. Hotel restaurant spaces must provide a fresh, welcoming aesthetic to guests all the while managing acoustics that allow them to have comfortable and quiet conversations among their tables.
In any hospitality design, the star of the show is the lobby, and here, felt can do it all. The lobby area serves as the first impression for guests, so striking design is key. Whether using arresting colours, branded materials, or neutral tones to highlight other features within the design, felt caters to all of it. The space is the centerpiece and is built as a high-traffic hub, but should be acoustically sound. Using spot acoustics and partitions, felt can create private spaces that allow guests to provide private check-in information without being overheard.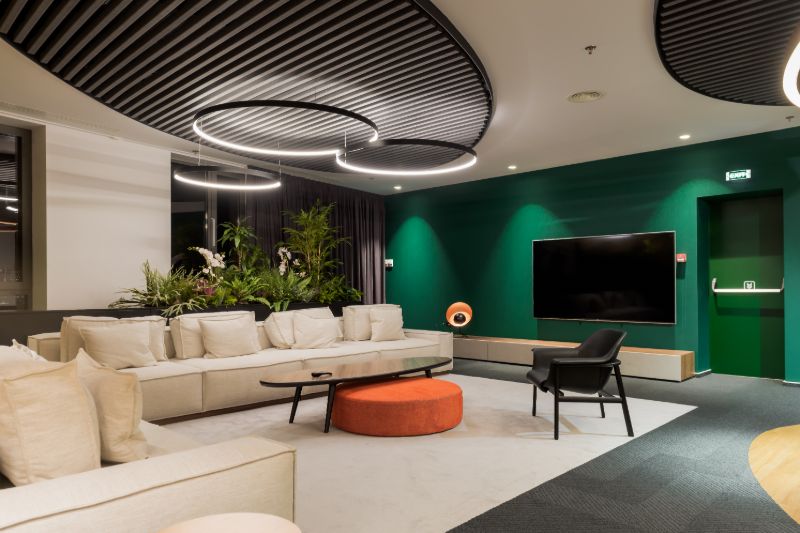 At the Intersection of Colourful and Contemporary
Not only does felt help to create comfortable, acoustically-sound spaces, it brings a rich, inviting, and colourful aesthetic to contemporary commercial ceiling design. While many first-generation felt ceiling products were simple stick-on panels featuring monochromatic colours, manufacturers are now designing complete felt product families. Some are even incorporating curves and shapes that push the boundaries of traditional ceiling design.
"Similar to the trend in the furniture and fashion industries, felt ceilings have grown and evolved in the past few years as designers found new uses for the material," says Taylor Hemingway, Felt Product Manager for CertainTeed. "Traditional applications have given way to linear ceiling panels, large format baffles and clouds and open cell ceiling designs. The wide variety of products solve a variety of aesthetic and acoustic challenges in open concept and large interior spaces–an increasingly important consideration in today's design world."
Linear ceiling panels bring a crisp, clean look and unexpected softness and texture to a variety of ceiling and wall applications. Not only are linear panels compatible with industry standard lighting, HVAC, speaker, fire safety and security systems, but these lightweight products also clip in the modular carrier system, turning any ceiling into a visual and acoustic playground.
"Very rarely do designers reach out to specify a felt ceiling across an entire project or building," says Hemingway. "They have targeted needs and want panels that can be installed using the same grid or installation method as other ceiling products. The same goes for linear panels and wall panels. This ease and convenience is a major factor as felt becomes more popular."
Manufacturers offer a wide variety of hues that allow designers to create everything from natural, biophilic spaces to bright, colourful and branded environments. Designers are often looking for acoustic ceiling products that tie in well with wood, metal, and other materials. White and grey do this well and add another layer of texture to the space, but the colour and texture options go well beyond neutral. Unique colours, patterns and textures provide aesthetics that are unlike those of any other ceiling materials and surfaces.
"Colour is one of the major attractions for felt ceilings," explains Hemingway. "Manufacturers offer a wide variety of hues that allow designers to create everything from natural, biophilic spaces to bright, colourful and branded environments."
Modern greys, beige tones, and other neutrals add a sense of calm sophistication to hospitality spaces, while more vibrant shades can integrate a sense of uplifting energy to these high traffic spaces. Hospitality companies can even reinforce their brand in a space with custom colours that match their identities.
Despite a wide array of finish options, white and grey tones remain two highly versatile colours for felt ceilings. "Commercial designers are often looking for acoustic ceiling products that tie in well with wood, metal and other materials," explains Hemingway. "White and grey do this well and add another layer of texture to the space."
As Design Trends Evolve, Felt Delivers
During a time when health is of the upmost importance to individuals while traveling, biophilic design continues to take center stage. Felt compliments natural elements including wood floors, green walls and natural lighting.
Designers are also frequently using hospitality design as an art platform to create eye-catching ceiling sculptures that draw the eye upward and capture the imagination. There's more to felt than typical wall-to-wall grid installations. "As far as design trends are concerned, we have seen mostly linear and rectangular installations in commercial applications so far," adds Hemingway. "However, this is beginning to change as specifiers create new designs by using linear panels and products in new and creative ways."
A full range of trim products enables the same basic panel structure to take on countless creative forms. The material can be used to create curves, waves, and other shapes for an unexpected sense of motion. Designers can specify direct mount to walls or ceilings to boost design impact and acoustic performance, or even design islands and floating clouds to serve as visual focal points and add acoustic control in open spaces.
Another trend moving into the fold is incorporating warmth into these spaces, creating a home-like atmosphere for frequent travelers. This trend implements felt in calming, natural colours, to create a welcoming, home-like feeling with expressive décor. Felt ceilings can be used to achieve the look of monolithic wood panels without the expense. Colours beyond basic neutrals can be used to leverage modern interior paint colours and create a comforting palette that stretches throughout the entire space.
No matter the application, the most recent felt ceiling and wall innovations augment a soft texture and provide endless options of hues, sizes, shapes, and textures. Today's products boast construction of high-recycled content and provide incredible acoustical control capabilities. Designers now have limitless flexibility to transform hospitality projects into visually striking artwork that is warm and welcoming, for even the weariest of travelers.
---
Robert Marshall is the senior technical manager for CertainTeed Architectural and a lifelong participant in the commercial ceiling industry. He is the product of one of world's first acoustic ceiling contracting businesses; a company founded by his family in 1927.