Denizens of Design: Giving the Bottom Line a Designer's Touch
A trio of projects by Denizens of Design illustrate why an approach that blends empathy and profitability is so important when working with hospitality clients.
Business school graduates will tell you a common axiom hammered into them during their studies is "do not mix business and emotion." But for Dyonne Fashina, not only does she side-step this mantra, but she wholeheartedly eschews it. For her, blending the two is absolutely essential when it comes to good design.
Absorbing and adapting elements of this belief learned during her fine arts education and even from the initial stages of her career in design now animates how she embraces interiors projects as founder and principal designer of Toronto-based Denizens of Design. This is particularly evident in a string of recent café and restaurant reinventions in and around the Greater Toronto Area: Clay Restaurant in the Gardiner Museum of Ceramic Art (Canadian Interiors, January-February 2020); an as-yet-to-be-named dining space in the McMichael Canadian Art Collection in Kleinburg; and Pantry, in the Columbus Centre portion of Villa Charities' campus.
What all three of these projects illustrate is the commitment to a foundational ethos that guides how Denizens works: an emotional investment in transforming spaces into both profitable and empathetic ones. What are empathetic spaces? "It's a concept we're really passionate about at Denizens," says Fashina. "It's partly about being empathetic to the space; I have a certain intuition as a designer that responds to the 'feel' of the environment where I'm working. But it's also about the space being empathetic to its intended users."
A small example of responding to the "feel" is how for Clay, Fashina crafted a real clay pot from materials pulled out of the Nottawasaga River, brought it to her pitch meetings and sat it on her desk to make sure the elemental nature of the museum's identity was incorporated into the redesign. A similar approach was used for McMichael, which is arguably most famous for its collection of paintings by the Group of Seven. "I have a personal connection to this space and this area," says Fashina. "I grew up nearby, in the Hockley Valley. I have fond memories of visiting the McMichael, first on school trips and later during my formal education in fine arts where I specialized in painting." Denizens took design cues not only from the visual language of these paintings – subject matter, palettes, textures and lines ("I actually painted renderings, which is something I wouldn't normally do!") – but also the vernacular architecture of the building itself.
"The gallery is a huge statement about Canada in itself: a vast modernist take on the log cabin idea and built of huge recycled logs and fieldstone, with views directly out on to the unspoiled Humber River with its 12,000 years of history as the location of the Carrying Place Trail," says the gallery's executive director, Ian Dejardin. "Designing a café for such a place, in the gallery's massive and imposing Entrance Hall, had to reflect all of that."
Reflecting a "statement about Canada" went beyond just aesthetics. It informed their decisions about material and product selection, as well as who they wanted to work with, specifically local makers who they asked "to put their own spin on the design intent," as Fashina puts it. Examples include slatted divider screens inspired by indigenous gathering-circles that incorporate inner layers of felt created by local textile artist Diana Watters, and a dramatic host stand by Heidi Earnshaw that greets patrons with a unique walnut façade referencing the surrounding landscape of trees.
But these choices were only part of Denizens' approach. Being a truly empathetic designer requires an understanding of the business needs of your client, and working closely with The Food Dudes – the hospitality partner on all three projects – Denizens carried lessons learned from their redesign of Clay Restaurant in creating profitable dining spaces to both McMichael and Pantry. Like Clay, the new McMichael Café is designed to facilitate restaurant lunch service and easily flip to evening and weekend events. A key move was to invest in new set-up/tear-down friendly furniture that not only reinforces the aesthetic but also creates an opportunity to take that revenue stream away from third-party rental companies and funnel it back into the client.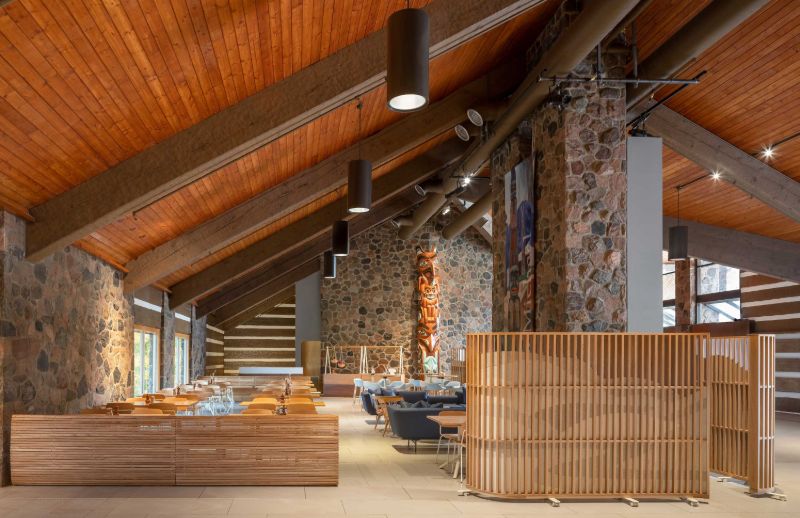 "Denizens' specifically keys into the importance of the business value of our projects, including ideas that allow us to draw on new sources of revenue through design changes, which help to offset the upfront costs of the renovations," says Lindsay Klein, CEO of The Food Dudes. How does Denizens do that? By continually asking: what is the value proposition for the client? "What are the important features that are lacking within the space that could really contribute to profitability, and keying into those things and considering them through the story of the design, so that it's not only profitable for the stakeholders, but it's also authentic to the brand," says Fashina. "It's proven by the work we did for Clay. They were able to recoup their upfront renovation costs in less than a year. And not only were they able to do that, by raising the venue fee, the patrons who are coming for events see a reduction in what they pay for their event because they no longer must rent furniture on top of it."
Finding a strategy that clearly works, Denizens took their experiences from Clay and McMichael and applied it to Pantry just when "profitability" became critically important. "We began this project in a time when the hospitality world was just trying to survive," says Fashina. "The project required an approach that was sensitive to the challenges of ever-changing lockdown protocols and considerate of construction costs while building in flexibility for the future."
Working closely with Villa Charities and Pantry's teams, a proactive "phased" approach was implemented: only elements critical to walk-in and delivery service were constructed to meet the minimum requirements of a restricted service model. The space was split in half, with the service counter, grab n' go millwork and take-out areas completed for immediate use; while the shell of the dining area was finished but left without furniture and fixtures.
"With indoor dining on pause for the foreseeable future, there wasn't any sense in fitting out the entire restaurant," says Fashina. "This allowed our client to not only not construct what they don't need right now, but not even pay for the design of that portion of the space nor have to pay for the contractor or furniture makers to build that part of the space. [It] allows them to focus on what they need right now, while giving them flexibility to determine when and how they complete the rest of the space."
A take-out window, dedicated counter area and entrance for delivery partners, and smart storage solutions were the areas of focus for Denizens. As this is Pantry's fourth location, these additions – while new to their typical setup – were the results of feedback gleaned from working through the early stages of the pandemic at their existing restaurants. In addition, rather than putting the brakes on the project entirely, the client was able to open in the digital realm to start pulling in revenue.
"That is what distinguishes successful hospitality designers: the ability to create environments that are not only beautiful and comfortable, but also profitable," says Fashina. "It's also why businesses should choose specialized interior designers, who have the methodologies and experience to positively impact the bottom line."
Photography by Scott Norsworthy (McMichael Canadian Art Collection Cafe / Pantry), Kelsey Blake (McMichael Canadian Art Collection Cafe).