Workplace Turns Habitat
Values like density and confinement are giving way to flexibility and wellness in the post-pandemic workplace, where humanity and resiliency are more important than ever.
The COVID-19 pandemic has achieved what many would have felt unthinkable before March 2020 by shifting millions of people worldwide from working in the office to working at home for more than a year.
Now, people who have managed to do their jobs from their homes are returning to offices in a state of flux, transitioning from spaces of the pre-pandemic world to those of a society deprived of human contact but obligated to keep some distance. Nobody knows what shape offices will take in the post-pandemic world, but a growing field of research suggests the most resilient offices will be able to balance the need for human connection and physical distance with flexibility, variety and a focus on holistic wellbeing.
"Workers say they are experiencing an increased amount of virtual fatigue, or burn-out, and are increasingly wanting to get back to the office," reads the latest Worker Preferences Barometer report by real estate services firm JLL. "This suggests offices will be more important now than ever before as the centre of the work ecosystem and that outstanding office environments will remain a critical way to engage employees."
JLL surveyed 3,300 office workers around the world 15 months into the pandemic and found 61 per cent crave "real" human interactions. While most workers want to return to the office at least part-time, JLL's research also found that the less people liked their offices before the pandemic, the less enthusiastic they are about returning. Nostalgia for the office is highest among people who reported a high level of satisfaction with the office before the pandemic, and lowest in those who reported low levels of satisfaction. About 45 per cent of the workforce feel disenchanted and have low expectations of their employers.
People surveyed pre-pandemic ranked working in a company that ensured their health and wellbeing fifth on a list of six workforce priorities. People surveyed in March 2021 ranked it third, behind work-life balance and salary. "The imperative is clear: the office of the future will have to be human-centered, putting health and wellbeing at the forefront," the JLL report reads. "This will benefit both employers and employees, through boosting organizational performance while offering highly attractive workplaces to key talent."
As for the relationship between workplace design and employee wellbeing, Dr. Allan Hamilton offered some insight during a panel as part of the IDC Virtual Design Symposium in October 2020. He's not an interior designer, but as an MD and professor of neurosurgery at the University of Arizona, Hamilton understands how the human brain handles stress. He argued humans experience existential crises when we violate our nature, which is to be altruistic, compassionate and empathetic.
"We get thrown into imbalance, and when we lose that connection with nature, we become perpetually anxious and stressed," said Hamilton. Built spaces that promote biophilia — the innate human instinct to connect with nature and other living beings — and support social wellbeing and safety can help restore balance and ease anxiety. He said a fundamental shift that post-pandemic workplaces should embrace is from density-driven design to more communal, shared environments. "Being more inclusive, more diverse and looking at group identity tends to end up being a better equation both for architecture and for the peace of mind of the human brain," says Hamilton.
Contract furniture powerhouse Knoll wanted to know what qualities will make for resilient post-pandemic workplaces and came to the same conclusions as Hamilton after conducting more than 20 panel discussions, 30 roundtables and a survey of 81 workplaces across North America. "Psychological safety will be an important element at play," the firm predicts in its report, The Case for a Thriving Workplace. "We're considering how to design space that provides solutions for unknown levels of psychological safety."
The report predicts design elements such as landmarks to assist in wayfinding, wide circulation paths, visual transparency and materials that provide sound dampening and textures will gain importance in post-pandemic offices. It also emphasizes the importance of the workplace delivering a cultural hub that gives people a "meaningful place to come together and facilitates connections with a sense of purpose, freedom and fulfillment."
While a human-centred approach might help companies attract and retain talent in a post-pandemic world, flexibility can help them sail through a period of compromise, expansion and contraction following the reopening of offices.
Throughout November and December 2020, professional services firm PricewaterhouseCoopers (PWC) surveyed 133 executives and 1,200 office workers in the United States on their post-pandemic work arrangement preferences and found most companies are heading toward hybrid work-from-home arrangements with little or no consensus between employers and employees on the balance of remote and on-site days. As companies work out arrangements that suit everyone, demand for spaces like meeting rooms, common areas and assigned workstations will change. Additionally, PWC's survey found real estate portfolios are in transition, with 56 per cent of executives expecting to need more space over the next three years.
So how can design professionals help offices flex with the changing priorities of workers and employees in a post-pandemic world? For one thing, PWC suggests offices embrace quality technology to support the remote workforce. "Companies that may have been slow to adopt technologies that support remote work…are playing catch-up," the PWC report reads. "Optimizing the hybrid workplace requires accelerating investments to support virtual collaboration and creativity, as well as for scheduling and safety."
In The Case for a Thriving Workplace, Knoll champions scalable, modular spaces that are easier to reconfigure or relocate than those made of plaster and studs. "If the year 2020 taught us anything, it is that you cannot predict the future. However, organizations can prepare for it by being nimble and ready to adapt at a moment's notice," the report reads. "The same can be said for physical space. Today's workplaces need to be agile, resilient and easily adaptable over time."
Some companies will have the resources to experiment with all these solutions, but most clients and designers are bound by physical and financial constraints that will determine which they can adopt and which they can't. In Canada, two workspaces at opposite ends of the continent are welcoming employees back to brand new offices built during the pandemic. Here are the features they have prioritized.
Sodexo
Last fall, French hospitality company Sodexo welcomed employees to its new office in an historic industrial building in Montréal. L'Abri and Vives St-Laurent, two firms based in Montréal, designed the turnkey project during the winter of 2020 and began construction that spring. L'Abri project lead Nicolas Lapierre said that when the pandemic temporarily shut the jobsite down a week into construction, the team discussed changing the design with Sodexo, but they ultimately stuck with the plan. Fortunately, the concept has risen to the challenges of the pandemic. "The concept that we had developed was already focused on the wellness and health of the users, and on flexible means and spaces for work," says Lapierre. "So [it] proved really resilient when the pandemic hit."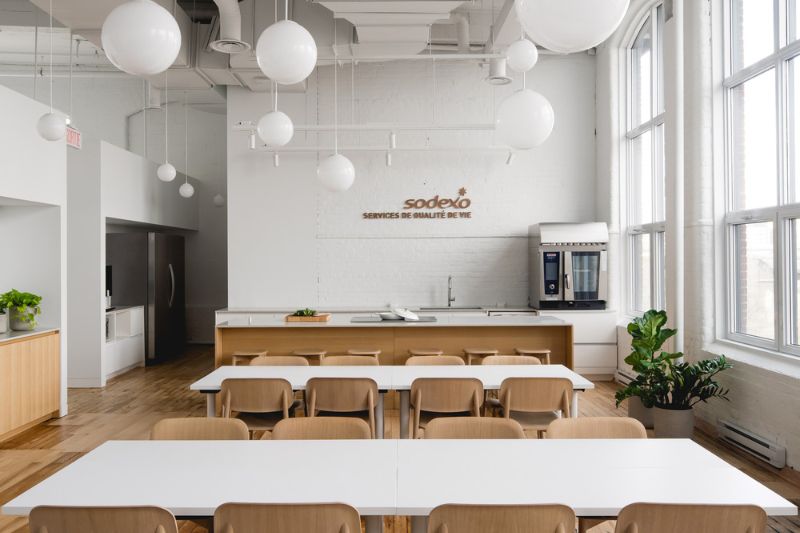 People-centred
The office balances bright, open common areas and wide circulation paths with enclosed spaces of varying sizes for quiet work, private phone calls and small meetings. With carpeted floors, felt-lined walls and dimmer lighting, the rooms provide a variety of not only spaces, but of ambiences. From the outside, these boxed volumes also serve as a wayfinding guide toward washrooms at one end of the office and the kitchen and dining area at the other.
A lounge area and professional kitchen offer space for people to connect and take nourishment together, while an in-house cleaning service means Sodexo's employees can become acquainted with the regular staff who keep the office sanitized and hygienic. The space also features a new ventilation system and promotes biophilia by way of an abundance of plants and natural light. All workstations are situated near windows, and windows in meeting rooms let in light from the exterior. Artificial lighting throughout the office is informed by lighting studies to reduce eye strain.
A high ratio of workspaces to staff — including 30 adjustable-height workstations plus plug-and-play ports in most seating areas — leaves people room to spread out, with or without a hybrid work-from-home arrangement. "They don't have to restrict the number of staff that can come into the office as much as other companies, because there are so many different places where you can actually sit down and work comfortably," says Lapierre.
Flexible and adaptable
The project aims to be resilient for years to come, with a modular, scalable construction and an emphasis on Internet of Things and virtual conferencing technology. Every meeting room is equipped for remote video conferencing with Logitech PTZ Pro 2 cameras accessible via a digital reservation system. Built into the project are so-called growth spaces; lightly furnished areas that can be reconfigured based on Sodexo's needs. They've even been pre-equipped with network cables. "We already passed all the wiring in the ceiling so eventually, if they want to transform those spaces either into a closed room or a more open-plan workstation, they could," says Lapierre.
The design team worked with Wx, a subsidiary of Sodexo, to install sensors on every seat in the office to monitor how staff use the space in order to reconfigure it for employees' needs in the future. Likewise, Sodexo can reconfigure the space as its own real estate or density needs change. "This project has to be resilient for a very long time, and [it] has to allow that you can change how you operate in extreme times," says Lapierre.
When the office opened in October 2020, capacity was limited to 25 per cent due to pandemic restrictions. Lapierre said there was a long waitlist to get into the space. Knowing how much people wanted to work there, he feels assured that the project's priorities were right for a post-pandemic world. "I don't think the pandemic is bringing as much change in new ideas," he says. "It's putting forward what we already knew were the best practices, but there's a new importance given to those."
And-Co
Susanne Mayer agrees. Mayer is a studio lead for architecture firm BVN Europe and one of the designers behind And-Co, a full-hospitality, shared office and networking hub currently under development in Vancouver's Coal Harbour neighbourhood. Like the Sodexo office, And-Co was designed before the pandemic and has retained its original design. Being built in partnership with Arpeg Group of Companies, it will comprise four lower floors of furnished suites and common areas within a mixed-use high-rise.
"It was already designed to have a lot of the features that are now becoming more important to people," says Mayer. "Around the world, I think [the pandemic] just has accelerated a lot of things people were interested in beforehand."
People-centred
And-Co will double as a shared workspace and cultural hub, featuring a forum with tiered seating for keynote speeches and workshops and a full-service dine-in restaurant. Suites cater to small businesses or large companies seeking to establish satellite offices. The project uses greenery and large operable windows that let in an abundance of sunlight and fresh air to promote biophilia, and a staircase with a multi-level void gives people a clear view of who is on and around the stairs, to avoid congestion.
The central core of the building serves as a wayfinding guide, leading occupants along wide circulation paths toward washrooms and other amenities. Depending on physical distancing needs, the pathway that encircles the central core can become one-directional to help manage traffic. Shared meeting rooms are plentiful and come in a variety of sizes to suit both individual and company needs, though And-Co also offers small, enclosed rooms and phone booths, as well as an outdoor terrace. "I think the thing lies in offering lots of choice and people being able to see what feels best for them and their team, rather than saying one size fits all," says Mayer.
Additionally, the project supports wellbeing with a complement of trainers, RMTs and physiotherapists, a gym, showers and dog-friendly areas. The inclusion of dog-friendly spaces, says Mayer, means surfaces at And-Co are designed to be easily cleaned and disinfected.
Flexible and adaptable
And-Co tenants share a reception desk, meeting rooms and amenities like the wellness centre, gym, restaurant and forum. This model, says Mayer, provides flexibility for tenants who need space to work and collaborate but don't necessarily want ownership of the other features associated with a traditional office.
"This is one thing that has accelerated due to a pandemic in terms of, you don't want to spend that much and you don't want to lock yourself into a 10-year lease anymore."
As for where And-Co will be in 10 years, Arpeg tapped Vancouver-based Kitspace to build a modular, scalable interior that can evolve as And-Co's needs change, which, if PWC's research is correct, they probably will.
"I think resilience is one of the biggest words that came out of the pandemic," she Mayer said. "Your teams might change. Your teams might want to work differently. Why don't you construct a space that can be easily adapted to your needs?"