Cersaie 2021: Miles of Tiles
Cersaie, the influential Italian ceramic and porcelain tradeshow held in Bologna, stormed back in September after a year in pandemic hiatus with a full cadre of participating firms and over 60,000 visitors.
Ceramic and porcelain tiles are considered a 60-year lifespan material. As such, identifying annual "trends" seems at odds with such a green classification. But like most design fields, trends reflect new options, often opened by technological advances that simply broaden possibilities in what is accepted design eclecticism. Technical perfection already largely achieved in digital printing has meant that since 2019 the sector has focused extensively on advancing several other technologies. Prominent at Cerrsaie, for example, were even larger, fibreglass re-enforced "wallpaper" slabs measuring up to 160cm by 320cm yet as thin as 3.5 to 6mm. Also featured were new surface treatments utilizing 3D printing, delicate etching and at least one firm that now uses a single run process for adding raised glazing patterns avoiding a second firing.
Many firms increased their focus on products that blur the line between inside and out. Neutral stoneware and cement predominate but some offer a parquet wood pattern. Interior as well as exterior dry-laying of floors was promoted as a green attribute allowing replacement and reuse of slabs. While large slabs were everywhere, small tiles under 30cm from firms like Tonalite and Cerasarda featured strong, solid colours with often high gloss finishes and varied shapes and textures. Blue emerged as one of the show's trending colours: hand-painted Majolica-style tiles updated with mid-century graphics featured in the Colli and Mazazzi Blue Wave Scenario collections, and Francesco Maio continued to expand its line of hand-painted double-fired tiles with the addition of Blu Ponti to designer Gio Ponti's growing collection.
Rococo or Baroque? Exuberant Flow and Fracture
Virtually every marble on the planet, as well as multiple non-existing "designer" versions now form the core of Italian tiles. One firm's representative told me their digital files contain well over 1,000 marble and other stone images. At Cersaie 2021, however, many firms offered what I would call Baroque or even Rococo marbles defined by strong colours (often in trending blue and green) and with exaggerated veining, sometimes in decadent gold. These tiles provide a powerful sense of movement and sometimes over-the-top opulence, while conversely, organic flows and swirls often give way to a more fractured chaos.
Tactile Surfaces
With high-definition digital imagery almost perfected, Italian firms have begun pursuing other technologies. In addition to advances in anti-skid surfaces, this includes honing three-dimensional surface treatments. Most dramatic are bold reliefs, often in small- to medium-size tiles that in addition to adding very tactile sculpted surfaces bring light into play including a temporal dimension as lighting changes through the day. Equally prevalent were collections featuring etched or low relief patterns. Less immediately visible than 3D, these bas relief tiles, scoured with simple lines, points or flora images, produced more subtle plays of light.
Pastels and Neutral Slabs
Many firms boasted lines of often extra-large slabs of monochromatic, warm pastels in colours like sage, mint, moss green, rose, butter, sky blue and so on. Their soft surfaces generate a clay or resin-like feel. Collections of similarly minimalist, neutral concrete in warm grey and beige hues often co-existed with these colours, "the new look of concrete" as one booth host put it. While alone or together these monochromatic panels give rooms a very modernist yet warm and often colourful aesthetic. Conversely, they were also frequently combined as a counterpoint to Cersaie's abundance of richly detailed "wallpaper" murals.
Murals: Mother Earth and Beyond
In her trend presentation to the media, Cristina Faedi, head of promotional activities at Confindustria Ceramica, identified "mother earth" as the dominate theme in wallpaper murals. This spanned very dense, realistic foliage (for both inside and out), watercolour-like florals and intricate fauna reflecting William Morris' wallpaper. Murals of faded monochromatic ferns and palm trees recalled a 1940s film noir affect. At the other extreme were examples of the hyper-realism achievable in digitally printed porcelain. Watertight and available with advanced wall systems that offer insulation options, there was a push for tiles as viable exterior cladding.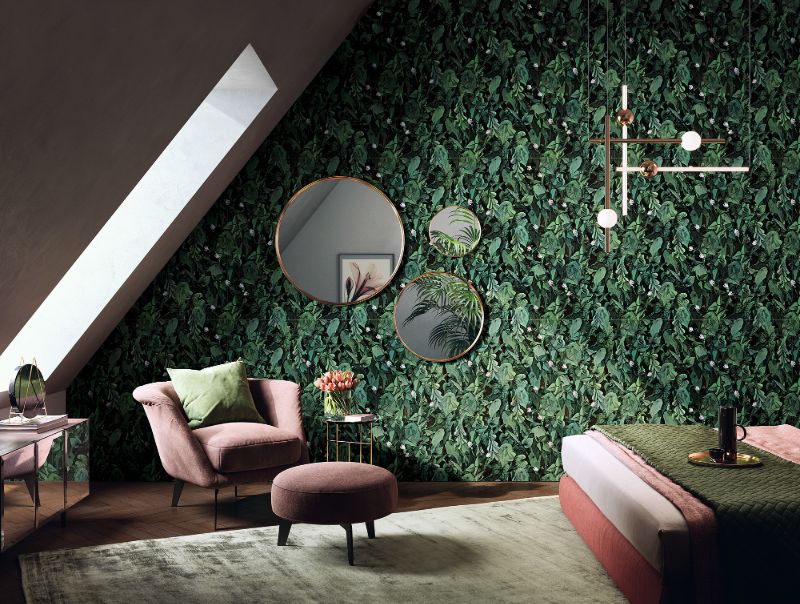 Nostalgia for 1940s to 1960s wallpapers, which themselves drew on Victorian designs, where frequent and reflected toile, chinoiserie, and damask patterns. However not all murals invoked nature. Geometric graphics often with a strong Deco vibe were common, a trend also found in smaller maiolica-like patchwork tiles but eschewing traditional designs for mid-century patterns. Less common, but some of the most eye-catching, were large slab panels exploiting the free flow of impression and abstract art as inspiration.
Beyond Just Wood
Hyper-realistic porcelain wood floor tiles along with concrete slabs imbedded with pieces or even chips of wood are now well-established and were present again. But this year, several firms pushed the envelope with brightly coloured stressed planks, exaggerated veining or stylized wood plank inserts.