PROJECT OF THE YEAR: Network Child Care Centres, Toronto
uoai, Toronto
Photography by Scott Norsworthy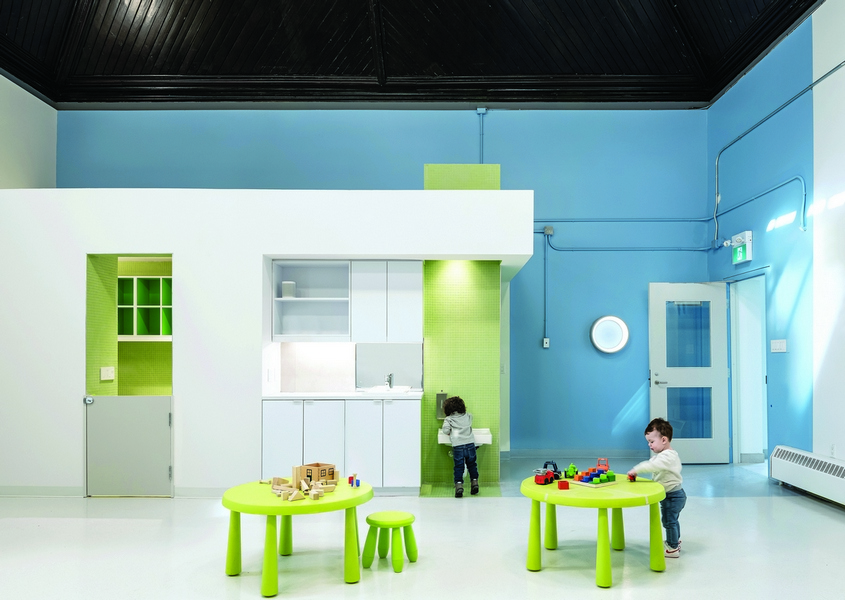 Variety and consistency: two important elements needed in the healthy development of children. They are also two important elements used by the design team when asked by a non-profit childcare organization licensed by the Ministry of Education to re-envision three childcare centres in downtown Toronto. Variety and consistency were needed because the settings differ significantly for each location: one is on the ground floor of a high-rise apartment tower; another within a split-level building adjacent to a church; and a third set within a 19th century municipal building. In all three, a consistent design set of spatial, material and lighting techniques were employed that serve the functional needs of staff, and spark inspiration and play in the children who use the centres. Within children's areas, colour is applied to floors, walls and ceilings to delineate "interior rooms" within larger existing spaces and conjure perceptions of threshold, passage and enclosure.
Within these interior rooms new cabinetry housing sinks, counter niches and openings to other spaces is consolidated into object blocks. Select moments of varying scale appear carved from the blocks, highlighted using colour and lighting. These shifts in scale are important as they invite children to inquire, investigate and consider space in new ways. Large format concrete tile and mirror is used within the staff counter niches, while areas dedicated to children receive colourful small format tile. This also creates an atmosphere of whimsy as children engage in everyday rituals such as handwashing. Wherever possible, openings are introduced between children's areas, circulation areas and staff rooms, allowing for glimpses and readings through and across spaces, inviting children to engage in intimate moments of exploration and discovery.
"The design solution truly responded to the needs of caretakers and the children who will use the space. From scale to colours, every element was thought out from the perspective of the users with calming white backdrop and splashes of vibrant colours for visual stimulation. The easy-maintenance material selections and millwork design support and enhance the overall aesthetics in a simple yet very creative way. Network Child Care Centres is a project that elevates the design standards for all childcare facilities." — Isabelle Talbot, principal, Ray.
"It is refreshing to be able to celebrate a project with a program and budget that would normally be overlooked. This project is very simple, yet really makes a successful effort to create fun interactive spaces for children with very basic means. Playing and manipulating found spaces, the project creates clever proportions and uses colour to turn the mundane into something quite delightful. At first glance, the design seems simple and effortless, yet looking deeper there is a lot of thought that went into the project." — Karen Mak, joint CEO, dkstudio Architects Inc
"The inventive use of colour and texture delights the eye and captures the imaginative spirit of play in the building; using simple, consistent, blocks of colour enlivens the space and delights children and the jury. Carefully scaled elements reflect the needs of children and the functional requirements of a working, busy, place. The high ceilings, lighting and fixtures show that the architects created a space that truly works for all." — Toon Dreessen, president, Architects DCA