Colourful Collaboration: Pointe-à-Callière
La Camaraderie and Inscape le studio present their latest project at Pointe-à-Callière, Montreal Archaeology and History complex: the iA Financial Group Workshop.
This brand new space is located in the Old Customs House — the Fondation J. Armand Bombardier Building — to create an educational space for school workshops. The mission is to introduce groups of students to history and archaeology through a variety of activities in an environment that is both versatile and fun. Here, learning wears its own colours and stories come to life thanks to the furniture specially designed as a narrative tool.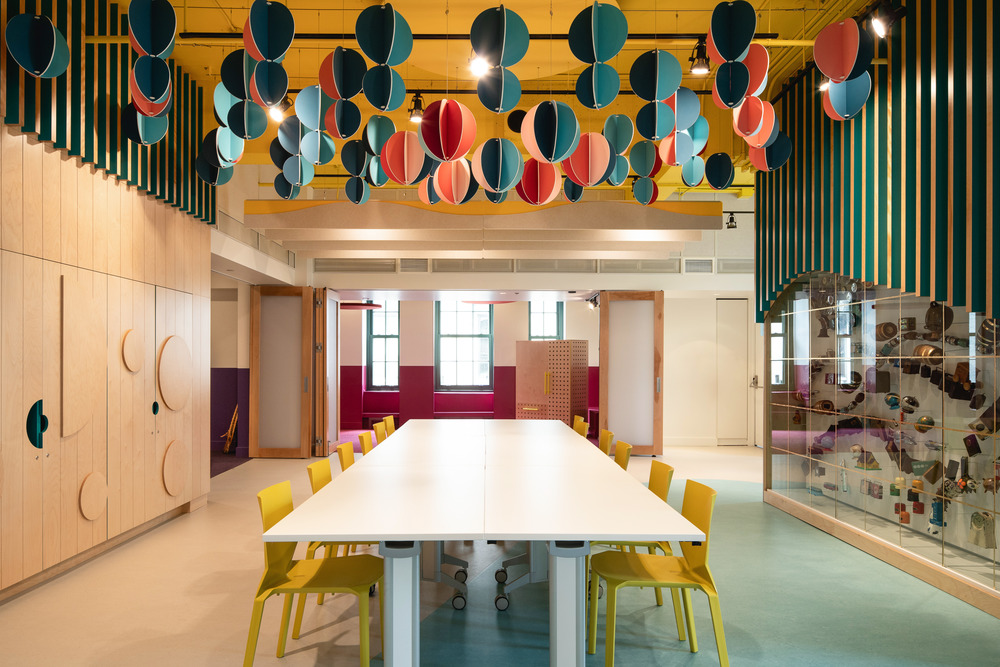 "The design team has shown boldness and creativity to create a space that not only meets specific needs, but also stimulates the imagination…a space that makes you dream," said Brigitte Lacroix, Exhibitions-Multimedia Technology Project Manager at the museum.
The educational space reveals an environment where colours and flowing shapes combine to immerse visitors in an experience inspired by the St. Lawrence River. For the designers, the movement of water literally became the guiding line of the design concept.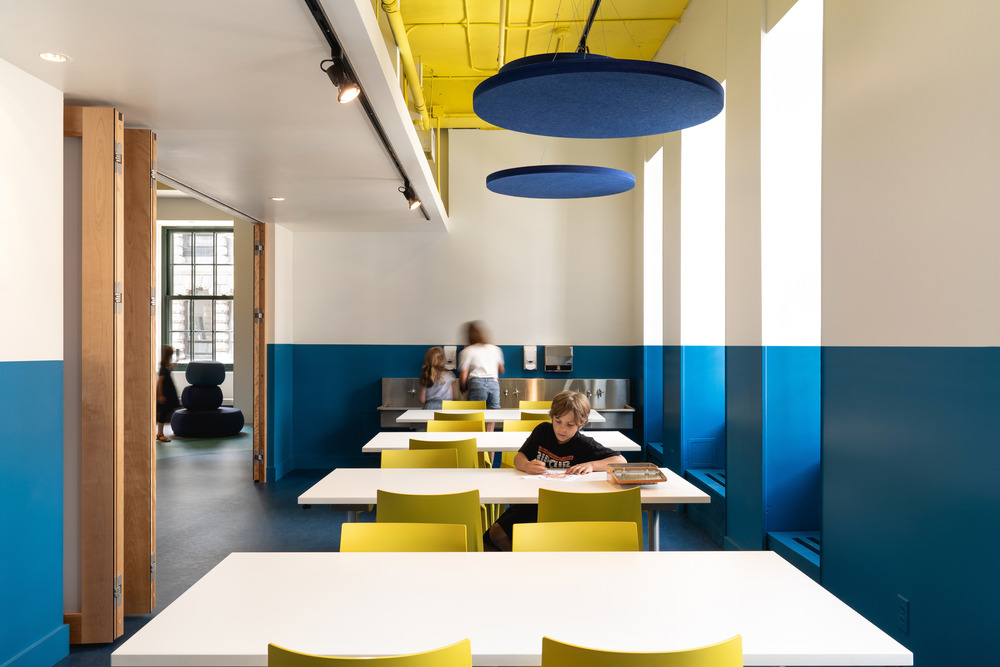 The Museum is on the banks of the St. Lawrence River, which was a determining factor in the founding of Montreal and the occupation of the territory. 
This formal vocabulary is reflected in all aspects of the layout and the design. A mobile installation hung from the ceiling animates the central space with perpetual movement reminiscent of small coloured pebbles agitated by the gurgles of water. On the floor, large blue waves cross the main area.
The main space is now subdivided into four rooms by the addition of large folding doors, allowing for greater spatial flexibility. Particular attention was paid to the acoustic management between the rooms, and the reverberation of sound. In addition, all interventions and design elements are designed in response to the acoustic challenges of the space.
The custom-made furniture is playful and functional, using bright colours and light natural materials. Each of them is developed according to the scenography of specific activities and their artifacts, inviting interaction between the youth and the presented objects.

Technical sheet
Title: iA Financial Group Workshop
Location: Old Customs House – Fondation J. Armand Bombardier Building, Pointe-à-Callière 
Client: Pointe-à-Callière
Area: 2,000 square feet
Designers: La Camaraderie & Inscape le studio
Engineer: Bouthillette Parizeau 
General contractor: Axe Construction
Project end date:  September 2020
Photo credit: Raphaël Thibodeau