Paint Colours of the Year: In Full Bloom
After a year of stay-at-home orders and living in a largely digital world, the Colours of the Year for 2022 appear to be nostalgic for mid-tones – think soothing, saturated hues that represent healing, regrowth and resiliency after living and working remotely.
Cool Current | Sico
"Not only have people's life priorities shifted following a year of uncertainty amid lockdowns, but so have their colour preferences, with many homeowners eager to make uplifting changes to their living environments," said Martin Tustin-Fuchs, senior marketing manager, Sico paint brand by PPG. "We're seeing a consumer revolution of sorts as people shift away from the stark, neutral palettes popular in the last few years and opt instead for more saturated hues that are guiding us into a new era of home design."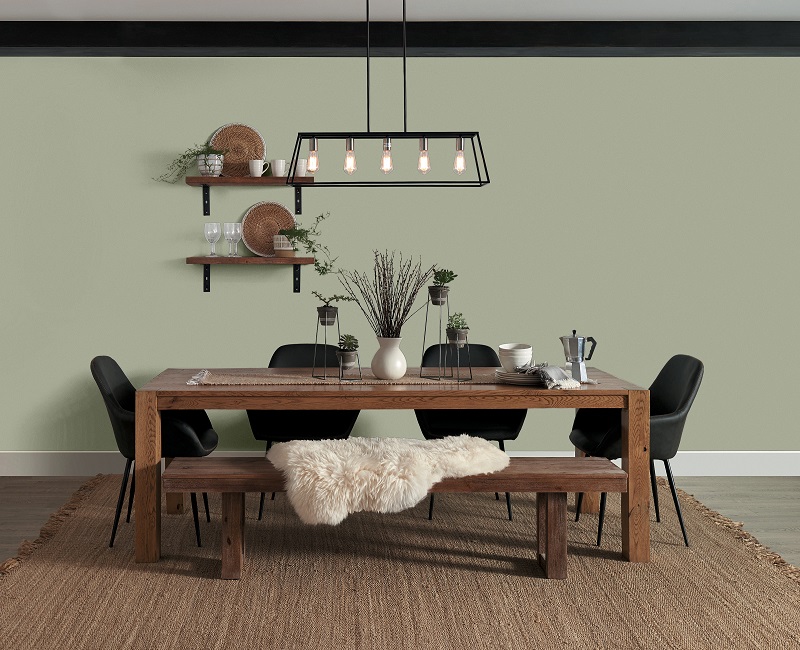 Breezeway | Behr Paint
A silvery green shade with cool undertones, Breezeway MQ3-21 is "inspired by the earth's beauty and mimics naturally stunning sea glass found on the shore of salty beaches." Available in Dynasty, the brand's newest four-in-one stain repellent, scuff-resistant, fast drying, one-coat coverage all-in-one-can paint product.
Olive Sprig | Dulux Paints
"We're seeing a trend towards relaxed, rich, organic hues that will be incorporated into home decor in the coming year," said Mitsu Dhawan, PPG marketing manager, Dulux Paints by PPG, explaining that this movement represents a break from the neutral tones that have traditionally been the brand's top-sellers. Reminiscent of nature, Olive Sprig DLX1125-4 "emits a sense of calm and tranquility, reflecting consumers' longing for stability, human connection and self-care in a new normal world."
2022 Colour Trends | Farrow & Ball
Joa Studholme, Farrow & Ball's colour curator, predicts that simple and familiar colours in clever combinations will be experiencing a revival in the home in 2022. "Rooted thematically in a feeling of folk and craftsmanship, these colours are a versatile mix of function, form and comfort." Among the five significant shades is Breakfast Room Green No.81, an example of where using one colour on both walls and woodwork can make a room look bigger by disguising the limits of the space.
October Mist | Benjamin Moore
Much like the green stem of a flower, October Mist 1495/CC-550 is a gently shaded sage that anchors other colours. "As the spaces in our homes continue to evolve, we uncover more opportunities to express our individuality and leverage the power of colour to design environments that serve different functions and styles," says Andrea Magno, Benjamin Moore Director of Colour Marketing & Development.
Evergreen Fog | Sherwin-Williams
According to Sue Wadden, director of colour marketing at Sherwin-Williams, with neutrals warming up, consumers leaning into creative expression at home, and greens increasing in popularity, the Sherwin-Williams team saw Evergreen Fog SW 9130 as the choice for 2022, moving toward revitalization and growth.
Warm Hugs | BeautiTone
This mid-tone shade of red-pink with an influence of orange "is the comfort we've been missing," says Darryl Allen, creative manager, BeautiTone Paint and Home Products. This Colour of the Year is part of the six hues in the 2022 Colour Trends Palette which tells a story of recovery and healing, composed of comforting, nature-inspired tones.