Fülhaus launches first-ever designer collaboration with Brady Tolbert
Fülhaus, the Montreal-based online Canadian home decor and furniture store, has teamed up with interior designer Brady Tolbert to develop its first-ever designer collaboration collection.

Tolbert's collection features three concepts made up of 600 pieces–Sinuous Forms: An Ode to Vladimir Kagan, Residency in Marfa, and The New Victorian. Each concept features a curated assortment of furniture and accessories that marry Tolbert's signature style and Fülhaus' approach to the design process and furnishing of a space.
"We are excited about partnering with Brady Tolbert for our first designer collaboration. He strives to push the envelope of design and curated a beautiful collection that matches the preferences popular amongst both our customers," says Andria Santos, CEO of Fülhaus. "As we continue to grow in 2022, this collaboration marks the next new phase of Fülhaus"

The Sinuous Forms: An ode to Vladimir Kagan's collection was inspired by the late American interior designer Vladimir Kagan (1927-2016). This collection reflects a modern and minimal style seen in the '70s and '80s with curvilinear and organic shapes. Boucle, suede, and sheepskin fabrics are seen throughout the product selection. The warm colour palette ranges from terracotta and blush to tawny brown and cream.
The Residency in Marfa collection takes on an electric yet refined feel that is reminiscent of minimalist artist Donald Judd's living and working spaces at the Foundation in Marfa, Texas. Materials include leather, wood, iron and the fabrics are kept light and bright. Leather mid-century modernist armchairs are seen alongside wooden rustic-looking coffee tables and billowy white cushions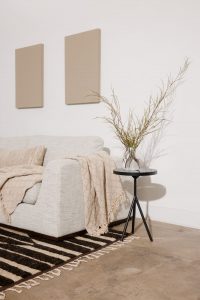 The New Victorian collection combines traditional tastes and modern-day sensibilities. Clean lines and simple forms contrast against the moodier colour palette of moss greens and navy blues. Traditional aspects of wood, brass, and velvet are uniquely modernized with black accents and mood lighting. The play of colours, textures, and aspects of the pacific northwest were the inspirations for this collection.

"The most rewarding aspect of creating the collection with Fülhaus is having carte blanche to create three very different collections that are both aspirational in design but attainable for the mass market," says Brady Tolbert. "We often see gorgeous rooms in magazines or online but aren't sure where to begin to achieve the look for ourselves. These collections allow you to do just that."
Geared towards short-term rental and direct-to-consumer markets in the USA and Canada, Fülhaus offers design packages for rent, rent-to-own or for purchase with the flexibility to keep, return or refresh for less than in-store prices.