Lighting: Flip the Switch
The lighting industry's evolution is exciting to watch, as designers experiment with materials and technology both old and new in ways that demonstrate the fascinating potential of light to animate space.
Hymn | Ambientec
Hiroto Yoshizoe's new portable lamp is a contemporary interpretation of a traditional chamberstick candle holder. When switched on, the electric current activates two magnets which brings movement to the pendulum lens. These tiny oscillations, along with the refraction of the 2000K LED light by the lens, create the appearance of a real candle.
Volum | Lodes
The company's first collaboration with Snøhetta, the new modular pendant collection pays homage to an Italian glassblowing tradition that morphs glass into naturally imperfect globe-shaped lamps. Each diffuser and frame appear as a single form, achieved by cutting the upper part at a 45-degree angle, allowing for a lid made of translucent methacrylate to provide an airtight seal. The lid houses a light source and features an exposed element in the form of a small opening where the cable slides through to balance the globe.
Seaforth Pendant | hollis+morris
A new addition to the Seaside Collection, this pendant was inspired by founder Mischa Couvrette's two years refurbishing and sailing a sailboat around Nova Scotia (from which the name is taken). The bent solid wood fixture resembles the boat's skeletal structure and is highlighted by an inlaid LED and capped off with brass, copper, or stainless.
Cut 'N Paste | Seletti
Always good for a wink, the irreverent Italian brand presents a new collection by Dutch designer Annebet Philips that includes a candelabra, desk lamps, clock, mirror, frames and shelves made entirely of recycled cardboard and tape. "These materials, often used in the design process for making prototypes, actually turned out working pretty good for the end result," says Philips. Good enough that what started as limited-edition pieces are now part of the Seletti family.
Oplight | Flos
A wall lamp that illuminates a whole room, Jasper Morrison envisioned this as future-proof and thoroughly recyclable at its end-of-life. The embodiment of Super Normal (a recurring theme in Morrison's work), Oplight looks like a musical note on a pentagram, or, as the designer describes it, "the most obvious, definitive shape a wall light could be."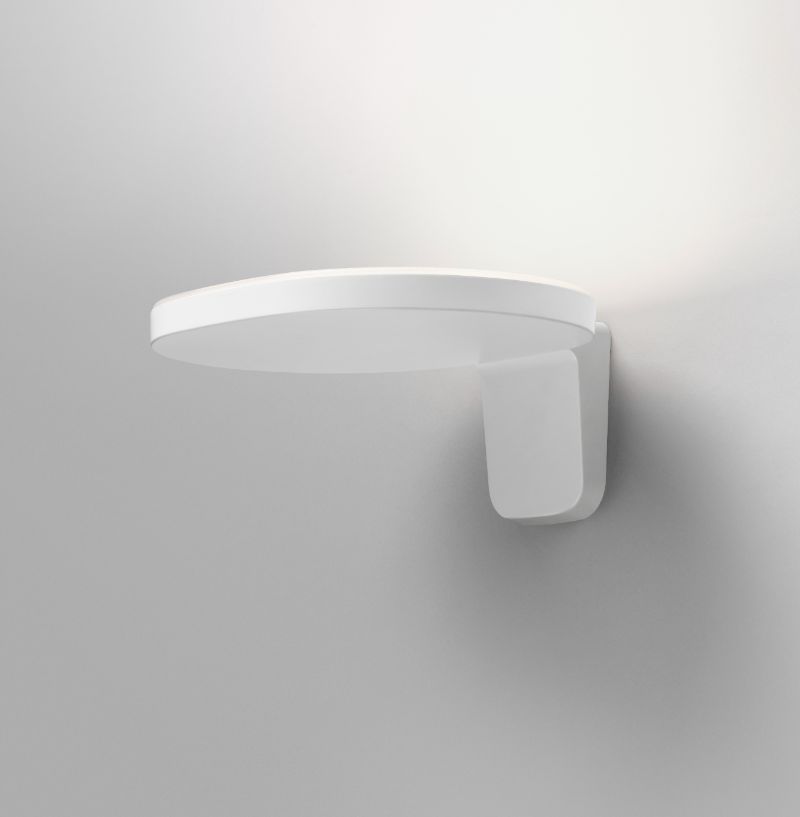 EK61 Opal Pendant | Carl Hansen & Son
Designed by Esben Klint, the pleated, superelliptical form of the luminaire is evocative of traditional Chinese lanterns, while the materials used for the luminaire give it a classic look. Originally designed in 1961 but never produced, it is now being launched in mouth-blown opal glass and solid oak.
Plusminus | Vibia
Launched at IMM Cologne and designed in collaboration with Stefan Diez, this collection consists of different light fittings with a common "connecting thread": a specially developed conductive textile ribbon that the luminaires can be intuitively attached to using a clip system. This means ceiling, wall and floor lamp distinctions no longer apply because the various elements of the collection can be adapted, attached or removed as needed.
---
Lights shine bright in L.A.
For many office towers, their lobbies are their billboards, and when asked to revamp the Watt Plaza lobby in Los Angeles, STUDIOS Architecture wanted to make it shine with a massive decorative light display. To do this, they collaborated with lighting design specialists Banks Landl Lighting Design to create a striking constellation using 350 individually mounted P1M LED luminaires by Vancouver-based Archilume.
The P1M is the company's marquee pendant product and is designed to evoke an inverted lit candle effect. Banks Landl designed a 15-ft. by 19-ft. lighting cove in the ceiling, in which each P1M was mounted at a different cable length. "Given this component is the focal point of the lobby project, the element needed to maintain a certain, specific mass for it to carry the stature it needed to have an impact," says Matthew Landl. And P1M's low wattage, low output fixtures in a large, focalized quantity allowed for the surrounding connective spaces to have reduced power consumption.