Back in the Saddle: IDS22
IDS22 delivered the three words that the Toronto design community has been waiting to hear: "in-person event."
Adopting the theme of "New Futures" was on-point for the 2022 Interior Design Show in Toronto, especially for a swarm of attendees metaphorically rubbing their blinking eyes after emerging from a long, cold COVID-fatigued winter. Home furnishings exhibitors in booths gladly showing new wares was a welcome sight as much for its familiarity as for seeing new collections.
Lithic chair | Maha Alavi
This low-lying prototype chair by Toronto-based industrial designer Maha Alavi combines a beautifully crafted solid wooden frame with beige boucle fabric seating. The heavy constructed solid wood frame protrudes above the seating to give a hint at a backrest, which gives the whole chair a nimbly simple, yet concisely unique shape.
Prism Rectangle 3D Panels | AKUSTUS
Made from polyester fibre containing 60 per cent recycled water bottles, these panels provide excellent acoustic sound absorption combined with inserting vibrant colour into any commercial, institutional, or residential space.
Memento | Moooi
Designed in collaboration with Belgium firm Arte, Memento is a digitally printed soft touch textile wallcovering on non-woven backing inspired by extinct animals to create colourful and playfully kitschy design that brighten any space.
Finefolk Chair | Fogo Island Workshops
Designed by Katrina Tompkins, who drew inspiration from traditional three-legged working stools used where the ground is rugged and uneven, this simple and unadorned chair is built by hand and made from locally sourced wood.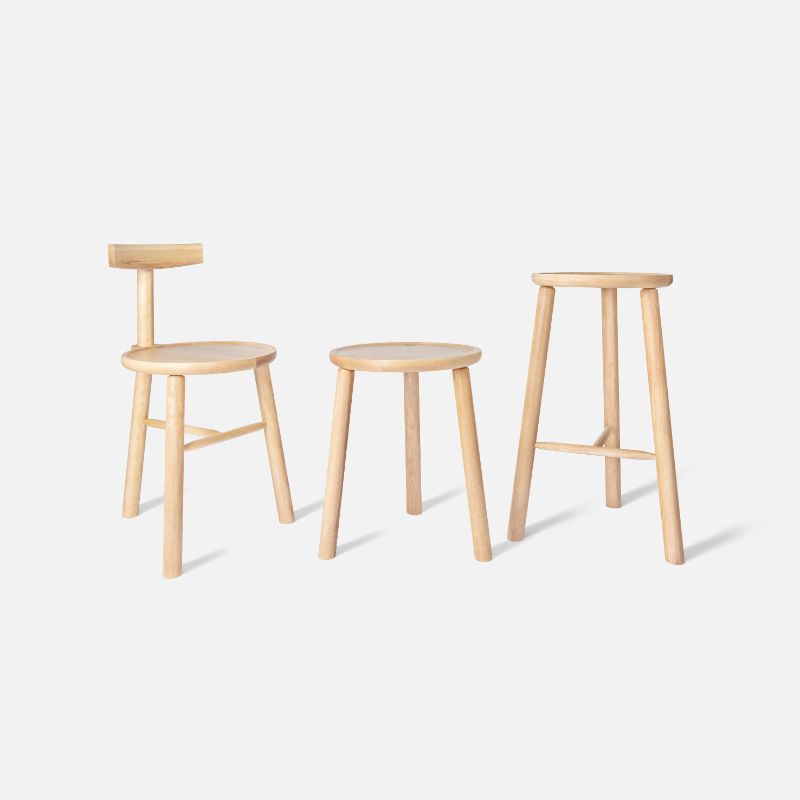 Ellipse Collection | hollis+morris
The Ellipse light, available as a chandelier and floor lamp, and designed by Mischa Couvrette is constructed as part of a triple metal frame structure encasing frosted LED lights, reminiscent of phases moon phases.
Quadrifoglio | Alessandro Munge Collection
Although the shape resembles a mushroom, the Quadrifoglio (Italian for "four-leaf clover") lounge stool by the man-of-the-hour at the show, Alessandro Munge, is both comfortable and elegant, and can be upholstered to fit any environment be hotel lobbies or private residences.
Custom Door Hardware Collection | Schlage
New architecturally inspired interior locks combine both bed/bath and hall/closet functionality into one, allowing homeowners to change from a doorknob to a lever, a traditional look to a modern look, even a non-locking door to lockable, in just minutes, without having to remove the inner core of the lock.
Neo Colosseo
Caesarstone commissioned Alessandro Munge in collaboration with Unique Store Fixtures to utilize their new Pebbles Collection for a headlining installation at IDS22. Inspired by the product's "simplicity and quietness" as well as the manufacturing process, "I wanted to celebrate and juxtapose those qualities by creating an immersive experience that was both peaceful, grounding yet inherently dynamic," says Munge. The result was Neo Colosseo, which Munge also saw as "an opportunity to bring people together and create a connective experience that could be as introspective as expressive and playful" after years of pandemic isolation.