Full House: 2nd Avenue Residence
The 2nd Avenue home is a three-storey 2,500 sq. ft. house that borrows numerous benefits from suburban buildings, while housing a little independent studio in the basement.

Designed by Microclimat, the house resides in the eastern part of the Rosemont-La-Petite-Patrie neighbourhood, in Montreal. The area is a working class district where urbanization was marked by the arrival of the Canadian Pacific Railway and many other industries settling here in the twentieth century.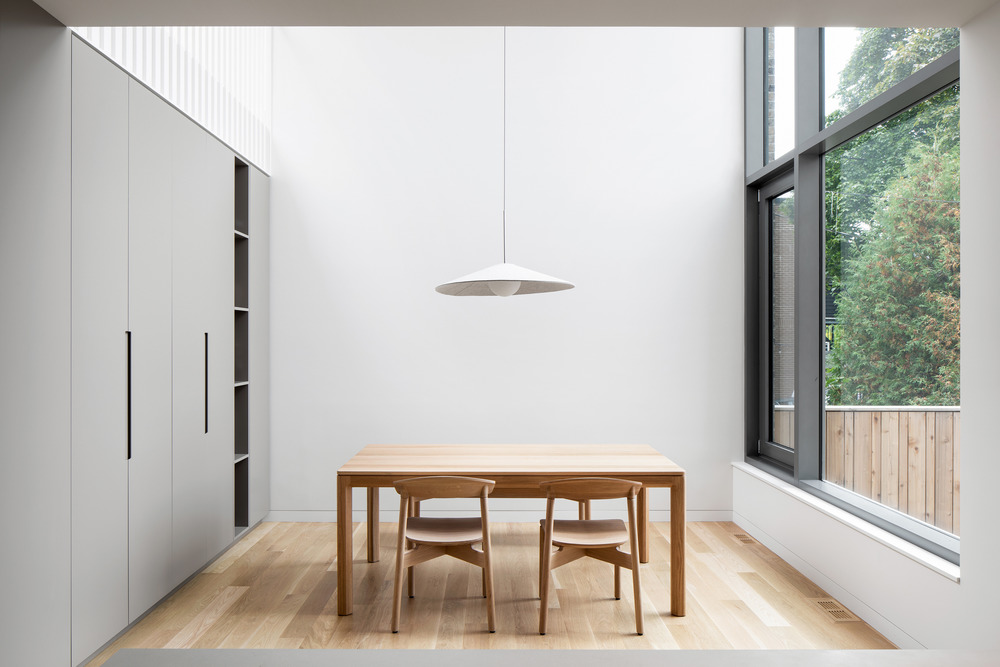 The architecture team responded to client Jean-Yves, and his family, request to be discreet and to settle in a respectful home design that would insert itself into its surrounding of red-ochre plexes and single-family homes.

Microclimat came up with a tiered home design where the sliding volumes create different environments. In the main apartment, the kitchen, dining room, and living room open onto one another, and onto the backyard via a fenestration.
These living spaces occupy the back portion of the ground floor, which is slightly raised by a few steps from the ground, and offer a direct link to a large terrace perched atop the garage. Surrounded by a low brick wall, this terrace offers itself as a promontory onto the back alley, as well as a protected space.
The massive low walls of the terrace, along with a light cantilever, support the discretion of activities in the kitchen and living room, while an important volumetric recoil maintains the intimate character of the rooms exposed to the large curtain wall.
Seen from the yard, the opening created by this large glass wall plunges onto an English-style courtyard populated with ferns and other perennials that accompany light and nature into the downstairs office.
The more intimate spaces of the main apartment are situated on the second floor, including two big bedrooms, a shared bathroom, and a multifunctional room for all uses. This dual-aspect space, which will evolve with the family's needs, also vertically connects spaces from all levels thanks to its generous double height and capping skylight.
The architectural duality of the front and back-facing of urban blocks is an integral part of the riches of Montreal's central sectors; as much as a demultiplication of facades that enhances the city's built heritage unfolds on the street, the back alleys abound with volumetric and material explorations of all eras.
The 2nd Avenue residence embraces this tradition: while its front facade aligns, dissimulates, and simplifies itself, the rear facade opens, projects, retracts, and cuts itself out.

In one unified material endeavour, two very distinct interfaces emerge—one that establishes a coherent urban structure and protects our collective architectural memory, and another that lets life shine with contemporary considerations that celebrate our current ways to create.