Clerkenwell Design Week: Chuffed to Bits!
Celebrating its 11th edition after a two-year hiatus, Clerkenwell Design Week (CDW) festival took over London's charming district for design industries, to the gratitude of throngs of design lovers.
Interface at St. John's Square
Placed within St John's Arch, near Interface's new showroom in Pennybank Chambers, the installation is a symbolic statement on the company's evolution from petroleum-intensive to climate-conscious flooring manufacturer. At one end, black yarn represents those carbon beginnings; the middle "pinch" signifies a moment in 1994 when founder Ray Anderson was asked what his company was doing to support the environment, to which he had no response; followed by the fan of rainbow-coloured 100 per cent recycled Econyl yarn used in their carpet tiles; and capped by a ring of light, representing Interface's aims to become carbon negative by 2040, a "bright future" reflected by the bed of greenery that supports the entire installation. Photo by Sam Frost Photography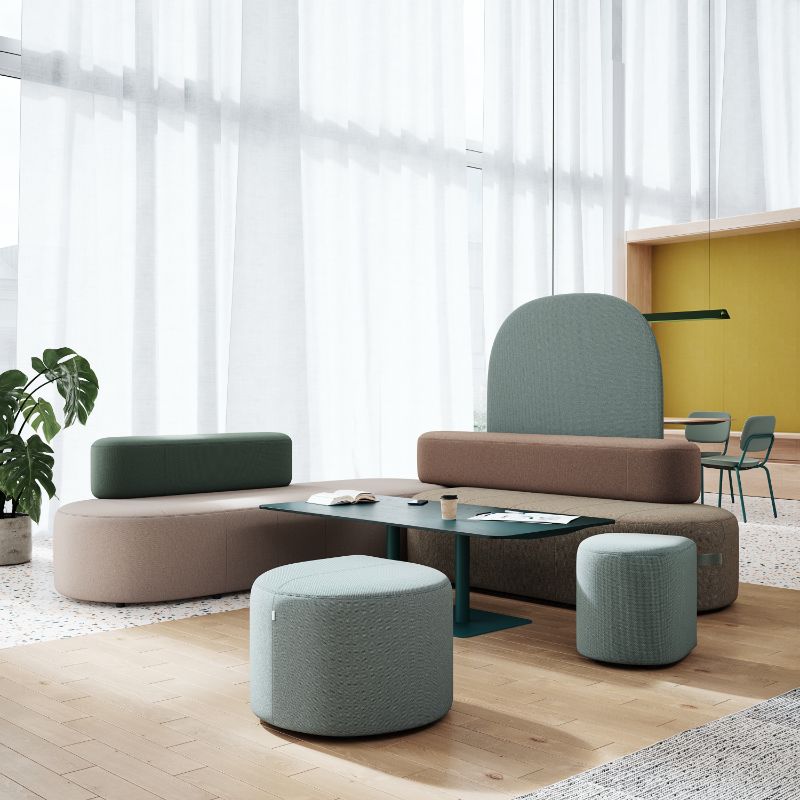 Revo | Profim
The new lightweight modular furniture range designed by Pearson Lloyd, inspired by the design of bicycle helmets made from expanded polypropylene (EPP), is also made from recycled EPP, which is already in its second life and can be remoulded in the future. And, for true circularity, the range is completely demountable, which allows materials to be separated so they can be returned to their technical cycles. No glueing or stapling, the fabric is gathered at the bottom with a simple drawstring.
Victoria Collection | Benchmark
Seen in the British Collection exhibition, the new collection includes a modular workbench system and folding meeting table, sit-stand desk, credenza, planter and end-of-desk storage, all intended to address the needs for workplace flexibility. Crafted from solid oak and ash with soft chamfered edge profiles gives the line a pleasing look and feel somewhat unexpected for modular office furniture.
Kata | Arper
Designed by Barcelona-based Altherr Désile Park and launched late last year, the Kata armchair was still drawing attention as Arper's first solid-wood lounge seat. The chair blends oak and black locust wood in a frame with a unified seat and back made from a 3D knit textile created from recycled polyester made from post-consumer plastic that is converted into durable and lightweight fibers.
Acoustic Felt – Recycled PET | BAUX
Expanding the company's portfolio of environmentally sensitive sound absorption material with nine new panels in different sizes, shapes and colours all with ceiling-to-floor applicability, design studio Form Us With Love made a couple sustainability focused moves: downsize the hardware kit to just four standardized pieces; and most importantly, use recycled PET bottles collected from various recycling entities across Europe.
One of CDW's main charms is its use of interesting buildings and facilities within which to showcase companies and their products. Arguably one of the best this year was the POP exhibit, held in a former Victorian-era cold-store turned nightclub called Fabric. In the bowels of the space, lighting brands XAL and AGO took full advantage of the crypt-like atmosphere to create large-scale, floor-to-ceiling installations that showed off their luminaries: the Jane series of flexible light cables by XAL (below); and Cirkus by Korean company AGO (above), U-shape modules that can be moved and directed in diverse directions.  / Photos by Black Edge Productions