Portugal Home Week: Ótimo Projeto
A modest yet successful event, Portugal Home Week revealed the best of Portuguese home product design to the world.
Rigoles | Wewood
Inspired by Brutalist architecture detailing often seen in fountains and stone gullies for water distribution, this new collection of coffee and side tables, designed by Pierre Dubourg and the second collaboration between the French designer and Portuguese manufacturer, is made of solid oak with brass detailing on the base.
Boia | Flam & Luce
An ode to Portuguese maritime culture, handmade macramé envelops a sandblasted glass globe topped with a solid ash handle, reminiscent of buoys seen bobbing on the side of boats docked in the ancient fishing village of Nazaré. Being wireless with built-in remote-controlled LED module technology for variable colour and intensity make it practical for indoor and outdoor use.
Gravity Chaise Longue | Cobermaster
An unmissable design motif that runs throughout their pieces is the robust grating pattern, like the grille of an old Buick Riviera. Prominent on their sideboard, bookcase, Moon table set and Gravity chaise longue, which challengers users to put their faith in the metalwork's structural integrity.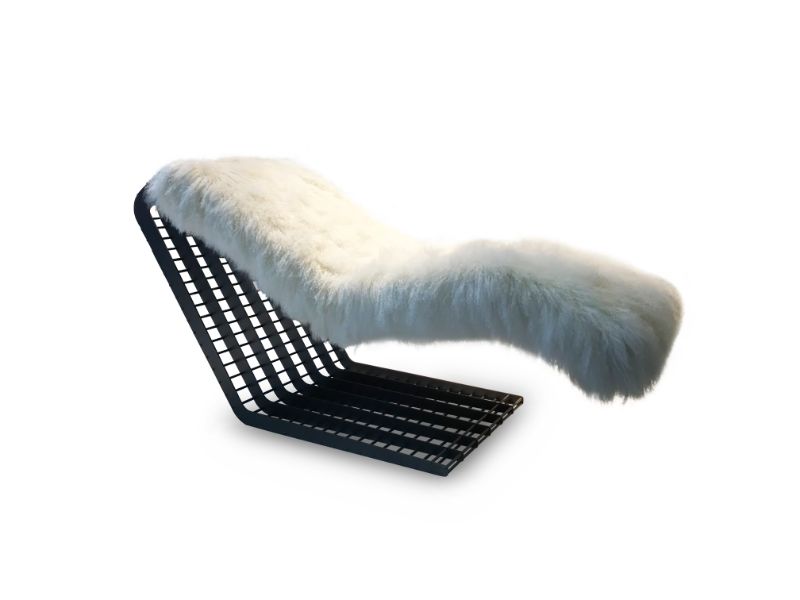 Annie | M+RE Contract
One of the biggest makers of wooden chairs and tables in Portugal, M+RE (pronounced "More") Contract showed off several of their popular lines such as Iris, Gemma and Annie (shown), all designed by Porto native Francisco Cardoso, and sharing similar qualities of extreme simplicity and solid manufacturing.
Mime | GlammFire
Founded in 2008, GlammFire has been turning heads at tradeshows with their statement-making fireplaces, such as this new addition which subverts geometric expectations of an outdoor fire pit, mixing straight and curved lines in black lacquered steel and brushed stainless steel plates with a brushed stainless steel combustion zone.
Not Another Edition | Laskasas
Every piece of furniture in the home is represented in this new collection, but the Porto-based brand has grander ambitions than just the home: each piece is named after a different region of the world – from Cairo to Montréal, Munique to Malé – with extremely subtle design cues referencing landmarks found at these locations, ranging from temples to historical buildings and plazas.