Team Work: Hybrid-friendly Offices
Remote days are here to stay, but the office is hardly obsolete. As a hybrid model becomes the norm, designers are embracing the workplace as a locus of collaboration and shared experiences.
I start my mornings with coffee. Standing at the counter, I measure out and grind the beans, prepare the filter, and begin another day at the office. As I slowly pour hot water over the grounds, I look out through the kitchen window and wave hello. It's 9:15 am, and DIALOG's Toronto studio is coming to life. As I prepare my coffee, people are filing in, waving back at me as they settle into their desks. They're all colleagues — but looking through the kitchen window during a daily ritual plays out like an intimate residential scene, I'm tempted to think of them as my neighbours.
It's a feeling that permeates through the entirety of the 30,000-sq.-ft. space. Opened at the zenith of the COVID-19 pandemic, the integrated design firm's Toronto studio exemplifies an evolving paradigm for workplace design, combining the welcoming warmth and comfort of residential and hospitality settings with a flexibility that accommodates — and anticipates — an evolving hybrid work culture.
Situated on the fifth floor of the CBC Building in downtown Toronto, the studio's front entry signals the sociable milieu ahead. Past an intimate seating area that frames the front door, a multi-purpose reception desk sits perpendicular to the entrance, facing out to a generous lobby flanked by a pair of conference rooms, as well as smaller meeting spaces. In lieu of facing the door (and thereby imposing a barrier between the entrance and the rest of the studio), the more casual front desk offers an invitation inside, conveying visitors and employees alike into a communal salon and the varied environments beyond.
Led by interior designer and DIALOG partner Alison McNeil, the space deftly balances a wide range of uses and work styles. Complemented by custom furnishings, the salon/lobby and entry area seamlessly doubles as an event space, with the sliding glass doors of the adjoining conference rooms opening up to expand into the lobby and accommodate a larger gathering. Bookended by the elongated reception desk (which doubles as a casual touchdown workstation) and a second counter that, depending on the occasion, serves as anything from a speaker's podium to a drinks station or a serving area for food. In between, an elegant array of seating spans the room.
Past the lobby and reception desk, a central corridor forms the spine of the airy, light-filled studio. Running through the heart of the studio, the hallway bisects the space, demarcating a subtle, porous barrier between quieter workstations from more sociable spaces. On one side, rows of individual workstations are interspersed with shared workspaces, as well as semi-private and fully enclosed small meeting areas. On the other side of the corridor, communal spaces — like the kitchen, fabrication studio and material library – invite more dynamic collaboration and social interaction.
But for my money, the kitchen steals the show. While the lobby is a public showpiece, the kitchen is the studio's day-to-day heart. Framed by ample café-style banquette seating and anchored by an expansive island, the DIALOG kitchen is an everyday — and all-day — hub.
"You can sit down on your first day at DIALOG, without knowing anybody there, and within the first 10 minutes you'll strike up at least a couple of conversations," says McNeil. She's not exaggerating. On any given day, a trip to the kitchen comes with a chat, an introduction to a new colleague, or a quick riff on an ongoing project.
And like the lobby, the space also lends itself to a broad range of uses. From informal meetings and impromptu lunchtime gatherings to DIALOG's annual charity breakfasts and Partner Chili cook-off the kitchen is an intuitive locus of activity. "We intentionally went beyond the number of seats, fridges and microwaves that are typically prescribed for a workplace of this size, emphasize ease and comfort to create a true community space. Nobody has to plan lunch at DIALOG, all you have to do is show up, and it's a social occasion."
The sociable spaces are complemented by equally well-considered work areas. Rows of desks are positioned alongside the windows, bathing workstations in natural light. Comfortable lighting and greenery weave together the whole studio with a biophilic ambiance. Soothing textures accent the furnishings and the walls, lending the clean, airy space a pleasantly tactile presence. For McNeil, who boasts an award-winning portfolio of hotel projects around the world, such touches represent an artful melding of hospitality and workplace.
The result is a workplace that celebrates gatherings, both planned and spontaneous, and fosters the sharing of ideas — a pivotal quality for a multi-disciplinary design firm. And even as the pandemic continues to dampen the vibrancy of downtowns and offices the world over, the design's experiential quality makes the DIALOG studio an uncommonly compelling workplace and a destination in its own right.
At various scales and settings, it's a design philosophy that has shaped some of Canada's most appealing contemporary workplaces. In Toronto's Liberty Village, for example, the new office for a technology firm exemplifies a similarly experiential, hospitality-inspired ethos —via a very different visual language.
Designed by local practice Syllable in collaboration with Hamilton-based X-Design, the 55,000-sq.-ft. showpiece integrates a symphony of styles into a multi-storey workplace. Anchored by simple black finishes and neutral hues, the office features a diverse range of environments, all clustered around a central atrium. From an airy and streamlined kitchen — a social focal point — to a lounge with a graffiti-accented brick wall backdrop and a ping-pong room with a pop-art accent.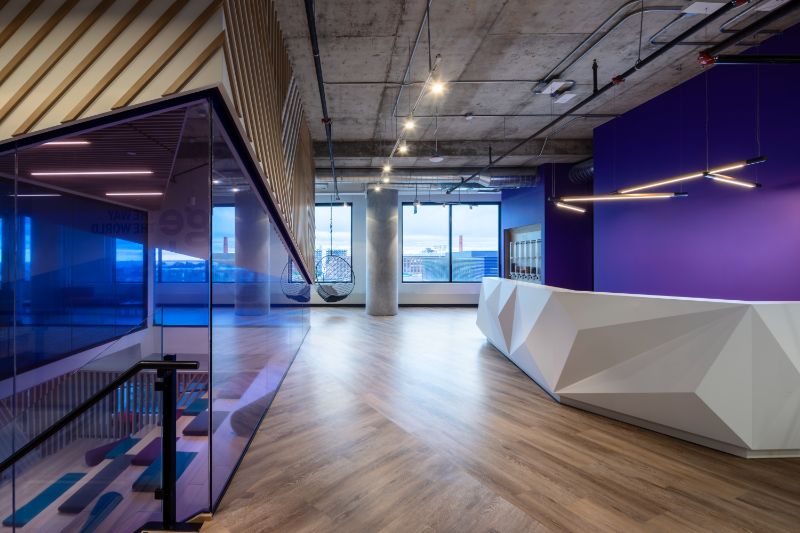 While eclectic social environments have become increasingly common in today's amenity-driven workspaces, Syllable's design ups the ante. Here, eclecticism is celebrated as an aesthetic signature and a defining element of the environment. "As you walk through the space, it's a journey," says Syllable co-founder Tatiana Soldatova, describing a sequence of spaces that introduce "whimsy and playfulness" into the workday.
There's more to it than fun and games. While the ludic quality of the social spaces is an obvious focal point of the design – and a powerful recruitment tool for prospective employees— Syllable's approach is also rooted in a deep commitment to workplace wellness and inclusivity.  "Different people are best suited to working and recharging in different types of environments," Soldatova explains, "and the reality of a neurodiverse workforce necessitates a variety of equally varied spaces."
It's a reality that top hoteliers and residential developers have known for years: we all thrive in different types of environments. And at the tech company's office, Syllable's devotion to well-being resulted in taking a page out of the hospitality playbook, creating environments seldom seen in workplace settings. Consider the "speakeasy," where a tranquil, dark ambiance complete with pool tables and plush chairs offers a respite from more active, animated spaces. "You can go in there for a quiet drink," says Soldatova, "or you can discover it on your journey through the space."
While Syllable's seemingly free-wheeling yet rigorously ordered and surprisingly cohesive design shares few superficial similarities with DIALOG's welcoming studio, both spaces are highly sociable and collaborative, and are shaped by a wellness-driven and hospitality-inspired sensibility that transforms a day at the office into an occasion.
In Vancouver, Hootsuite's new global headquarters offers an outdoorsy west coast variation on the theme. Designed by Vancouver-based Māk Interiors, the 24,000-sq.-ft. workplace unfolds in a series of vivid and energetic spaces. Here, too, a deft combination of hospitality and residential influences converges to create an immersive environment.
Designed in collaboration with Fusion Projects, the space is organized around a loose cluster of pre-existing indoor "cabins" that were scattered around the room. Instead of removing these unconventional indoor sheds, Māk opted to transform them into a focal point of Hootsuite's office. Re-imagined as a sequence of meeting rooms, lounges, and collaborative zones, the compact cabins — with wood siding and miniature verandas to boot — are complemented by bright green carpeting and colourful ottoman seating to create an intimate front porch ambiance.
According to interior designer and Māk founder Amber Kingsnorth, the bold interior placemaking serves Hootsuite's evolution into a flexible hybrid workplace. Hootsuite's leadership surveyed employees throughout the work-from-home period to gauge their interest in returning to a communal workspace. "What they discovered is that most of their team was interested in collaborative work and gathering in an office, while continuing to work from home for more solitary tasks," Kingsnorth explains.
As a result, the office is oriented towards more sociable environments with the cozy interior cabins paired with more open communal spaces, including a relaxing living room complete with a fireplace and stone hearth. Accented by pleasant notes of greenery and intelligent skylight panels that mimic changes in natural light throughout the day, the office is rounded out by a range of spaces to support wellness, including prayer spaces, a mother's room, and an isolation area for private moments.
While a thoughtfully holistic program makes for a versatile and inclusive space, the social experience remains at the heart of Hootsuite's work culture. Kingsnorth describes the design's guiding principle as an embrace of the "welcome interruptions" that colour the workday; the chance encounters, informal meetings and coffee breaks that often catalyze and enhance creative thinking. And while more traditional workstations still occupy part of the space, the design embraces interaction and collaboration as the shared workplace's greatest asset.
From coast to coast, workplace designers are translating the language of residential and hospitality design to create more welcoming and sociable environments, thereby transforming workplaces into collaborative venues for interaction. And while all three projects here were conceived before the onset of the pandemic, they respond to a trend of hybrid work that's been accelerating for over a decade.
For all that, COVID-19's impact remains seismic. Over two-and-a-half years since the onset of the pandemic, office occupancies across North America (and particularly in Canada) remain well below their 2019 levels. Does that spell the end of the physical office as we once knew it? Amidst a lingering public health crisis, growing transportation costs, an uncertain economic future, and a "great resignation" that continues to shift the labour market, the 9-5 reality of a day at the office is an increasingly distant memory.
As employers struggle to hire, the flexibility of allowing remote work has become a de facto pre-requisite for recruitment in many industries. According to data analysis by job site ZipRecruiter, jobs denoted as remote garner some 300 per cent more applicants than in-person positions across the United States. For Nicholas Bloom, a Stanford University professor studying management practices, these shifts have long-term consequences. "The idea of a full return is dead," he told NBC News earlier this year.
But the office still has plenty to offer: DIALOG, Syllable and Māk are among the interior designers proving it. By creating spaces that celebrate togetherness — while emphasizing health, wellness, and inclusion — designers are transforming the workplace into a venue and the workday into an event. In Silicon Valley, Bjarke Ingels Group (BIG) and Heatherwick Studio's new Google campus makes the metaphor literal, combining a marquee event venue with a workspace. Here, even the colourfully varied desks feel like booths at a trade show, a feeling amplified under the sweeping, tent-liked doomed roofs.
While BIG and Heatherwick's California showpiece reimagines the nature of the office writ large, interior designers the world over are beginning to apply the same concepts at smaller scales. And yet, even Google's universe of engineers and algorithms can hardly predict the future. As we adjust to a new economic and social equilibrium of the late pandemic era, another seismic and unpredictable change could be looming on the horizon.
Fuelled by rapid inflation and rising interest rates, a slowing economy augurs another shift in how and where we work. While the fast-paced, competitive hiring of the past year saw remote work cemented as a workplace staple, the next recession may tip the scales again.  If today's record-low unemployment gives way to layoffs, bargaining power could tilt back towards employers. Will that mean an accelerated return to the office? We can't pretend to know for certain.
Fortunately, designers like McNeil, Soldatova and Kingsnorth have the wisdom of uncertainty. While today's best workplaces are optimized to make the most of a hybrid environment, they aren't designed to be static. Flexibility and adaptability are a key part of the philosophy, fostering versatile, multi-use environments than accommodate evolving needs. These days, designing for the times also means designing for the times ahead. It's an axiom for an accelerating world where the only constant is change.