Arts Umbrella Art Auction
Arts Umbrella, Canada's non-profit organization for youth arts education, marked the 40th anniversary of its Splash Art Auction by hosting its most successful event to date. Held at the Fairmont Hotel Vancouver on October 22 and presented by Nicola Wealth, the flagship fundraiser raised $1.775M, supporting bursaries and equitable access to arts education for young people across Metro Vancouver.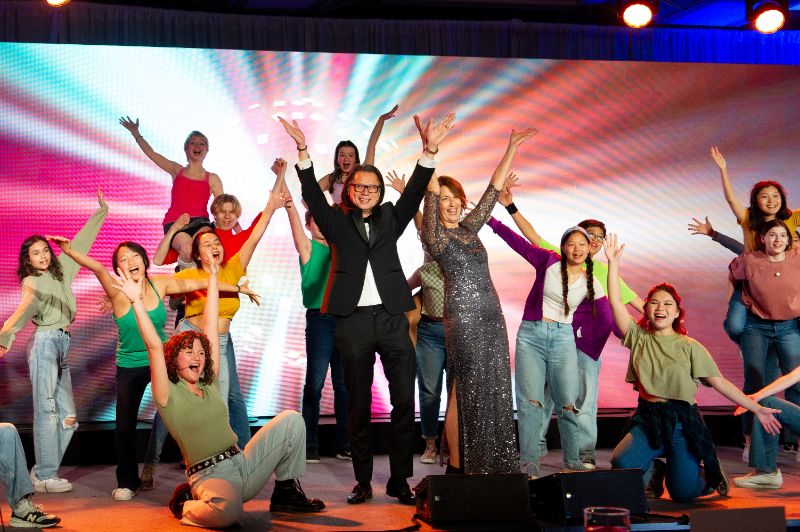 This year's dynamic event drew a sell-out in-person crowd with more than 550 guests including Splash artists Karin Bubaš, Douglas Coupland, Russna Kaur, Stephen Waddell, and Xwalacktun (Rick Harry), among others. Others out to celebrate included Arts Umbrella Co-Founder and Honorary Chair, Carol Henriquez, Arts Umbrella Co-Founder Gloria Schwartz, Nicola Wealth President and Arts Umbrella Foundation Chair, David Sung, and Nicola Wealth Chairman & CEO, John Nicola.
This year's Splash Art Auction highlighted nearly 100 pieces of work from artists including Dana Claxton, Graham Gillmore, Marie Khouri, Susan Point, Jeff Wall, and many more. The event was once again emceed by Gloria Macarenko and Fred Lee, and co-chaired by avid arts supporters Christie Garofalo and Bruce Munro Wright.
"We couldn't have asked for a better 40th anniversary gift than exceeding our Splash fundraising record," said Paul Larocque, president & CEO of Arts Umbrella. "The success of this year's event is a testament to our community's commitment to youth arts education. We remain grateful to our sponsors, partners, supporters, and especially, the artists for the opportunity to continue inspiring young people through the power of art."
For more information about Splash and Arts Umbrella, visit www.artsumbrella.com
Photography credit: Jamie-Lee Fuoco