2022 Year-End Book List
There's nothing nicer than relaxing in a cozy armchair with a smooth tipple and a good book. Here is a collection of supurb titles to help get you there.
As you ease into your end-of-year hiatus, here is a list of new (and new-ish) titles that range from the usual dense monographs to heavyweight coffee-table tomes to feisty pocket-sized manifestos bucking narrative and design conventions. Not only will these titles look good on the shelves of your studio or under the trees of friends and colleagues but cracking them open may actually fuel creative juices for the new year ahead. Organized loosely into categories, these titles are perfect for readers who are…
…interested in BIG IDEAS
Canadian Modern: Design from the Royal Ontario Museum (Royal Ontario Museum)
A published compendium to a major exhibition at the Royal Ontario Museum that places prime examples of modern Canadian material culture under the display case. Plucked from the museum's extensive collection and featuring some of the most well-known names across multiple creative industries, with work from over 70 designers and 40 manufacturers, Canadian Modern celebrates close to a century of making in Canada, from Clairtone's Project G stereo to the Blackberry smartphone.
"Canada has a rich and vital craft and design culture that is deserving of recognition and appreciation. By juxtaposing innovation and tradition, mass-produced and one of a kind, the exhibition strives to ask questions and foster debate about what defines Canadian design, as well as to underscore both the challenges and the joy in making," says Dr. Rachel Gotlieb, Ruth Rippon Curator of Ceramics at The Crocker Art Museum, lead curator of the exhibition and author of the companion publication, which features contributions from ROM curators Dr. Alexandra Palmer and Dr. Arlene Gehmacher, along with a foreword by Josh Basseches and an afterword by Dr. Elizabeth (Dori) Tunstall.
West Coast North: Interiors Designed for Living (Figure 1 Publishing)
Canada's Pacific Northwest is home to interior designers and architects with their eyes on the outdoors, a varied population, and the future. In West Coast North: Interiors Designed for Living, Julia Dilworth talks to them about their motivations and how they work, and showcases their projects, in full-colour photographs and their own words. The 29 firms profiled bring varied backgrounds and approaches to projects from old home renos to new builds and from rooms and apartments to breweries. With a characteristic West Coast concern for the environment, they're keeping old builds out of landfills and bringing the beauty of the outside world inside, through windows, materials, and colour palettes. They're inspired by local craftspeople and artists and by design from far flung places—the places from which the world has gathered on Canada's West Coast.
Design Emergency: Building a Better Future (Phaidon)
How comfortable should we be with "universalities"? According to the authors of Design Emergency: Building a Better Future, if everything we once took for granted hasn't been turned on its head already, it is high time they should be.
Alice Rawsthorn and Paola Antonelli, two well-known names in the design world, co-founded the Design Emergency project in 2020 as a research platform to explore design's role in helping to build a better future. A product of that initiative, this book focuses on four themes – Technology, Society, Communication, and Ecology – and describes how designers are addressing complex challenges in each field and "demonstrates design's power to nurture the lives we need and want." This is done through 25 interviews with designers and creatives, including recognizable names such as Irma Boom, Ilse Crawford, Formafantasma and Eyal Weizman of Forensic Architecture, but also the likes of Francesca Coloni, head of design for the UNHCR's refugee camps; Isabella Tree, who has devoted 20 years to wilding her family's farm; and Alex Asen, campaign lead for the Great Green Wall of Africa, a land restoration project that aims to reverse drought, famine and mass migration across the Sahel region.
Read our review here.
…interested in EDUCATION & PRACTICE
The ECAL Manual of Style: How to Best Teach Design Today? (Phaidon)
Currently under the directorship of designer Alexis Georgacopoulos (co-author of this publication along with American designer and writer Jonathan Olivares), the esteemed Swiss design school ECAL (École cantonale d'art de Lausanne) has established itself as a leader in design education through an open-ended process that generates a diversity of innovative solutions. An expansive roster of seasoned practitioners brought in as workshop tutors ensures adherence to no single design agenda or philosophy, and this new book explores that pedagogical approach in product design over the past 20 years.
Quotes and contributions from prominent designers such as Patricia Urquiola, Jaime Hayon, Konstantin Grcic, and British design critic and author Alice Rawsthorn respond to the question of "How to best teach design today?"—providing a foundation for the introduction of a selection of ECAL projects drawn from the past two decades. Historically, many of ECAL's design projects have focused on food. Georgacopoulos himself led a studio called the Bread Workshop, in which the improbable medium of bread was explored in a plethora of ways, its material properties manifest in objects as varied as birdhouse, egg cup, basket, tile and brick—among others.
Read our full review here.
Auto-Ethnographic Turn in Design (Valiz)
Ask a designer what the role of a designer is, and you will get as diverse a spectrum of answers as you will designers. Is it one of creative expression or rigorously conducted research? Is it engineering over artistry, or vice versa? Can it be everything, all at once? Many designers will chafe even at that, saying not taking a position is part of the problem of our times.
Designers taking a position, at times referred to as authorship, has always been fertile ground for debate between critics, theorists, educators, and practitioners. There are designers who shy away from authorship because they think of themselves as problem-solvers, not a brand. Then there are those who believe designers are not merely mediators, not just part of an agency that suggest various options to the client, but in fact need a strong voice and make decisions – an attitude that could be seen as in opposition to the prevailing sentiment that design is all about collaboration.
A collection of interviews and essays by editors Louise Schouwenberg and Michael Kaethler in a new book titled The Auto-Ethnographic Turn in Design  explores these issues.
Read excerpts of the book here and here.
Listen to our conversation with Michael Kaethler, co-editor of the book, on this episode of Bevel.
Universal Principles of Interior Design (Rockport Publishers)
The current discourse about, well, everything really, is dominated by refrains of "break the rules," a sentiment echoed repeatedly in nearly every dialogue about the design industry. But before you can break the rules, it tends to help if you actually know what they are. Not only do they exist, but many are considered "universal" when it comes to good design.
That reality is presented in a fascinating new reference book titled Universal Principles of Interior Design by Chris Grimley and Kelly Harris Smith. In it are 100 concepts and guidelines considered critical to a successful application of interior design. These principles – distilled to single-word titles and organized alphabetically, from Accessibility to Zones – are presented in a double-page spread format, with the left-hand page containing a definition and description of the principle and examples of and guidelines for its use. Side notes, which appear to the right of the text, provide elaborations and references. The right-hand page contains visual examples and related graphics to support a deeper understanding of the principle.
Read our review here.
Scoreboard Your Practice: 7 Numbers to Understand Your Design Firm's Financials (FriesenPress)
When small and midsized design firms try to strengthen their firms, they tend to fixate on the "Practice of Design": doing better work. However, the work itself isn't the problem. Getting stronger requires a shift of focus to the "Design of Practice."
This foundational philosophy is expressed early and often in Rick J. Linley's new book, titled Scoreboard Your Practice: 7 Numbers to Understand Your Design Firm's Financials. His focus on the "Design of Practice" is more than just a clever turn of phrase: it is a pillar around which Rick weaves and distills lessons learned from over 30 years of serving in the trenches of the architecture and design profession, culminating in his role as Principal/COO of Smith Carter Architects and Engineers Inc., a 200-person, multidisciplinary design firm (now part of Architecture49).
Read an excerpt of the book here.
Listen to our conversation with Rick J. Linley on this episode of Bevel.
…interested in INFLUENTIAL PLAYERS
Walter Gropius, An Illustrated Biography (Phaidon)
A new densely illustrated biography of Walter Gropius offers fresh insights into the life behind some of the most iconic designs of the 20th century. The researchers selected for this project are Bauhaus scholars Leyla Daybelge and Magnus Englund, whose 2019 book, Isokon and the Bauhaus in Britain, examine Gropius' time in London in the 1930s. Readers familiar with that title will know to expect an objective-yet-sympathetic approach in this new biography which is both accessible and arguably the most accurate portrait of Gropius thus far.
A name indelibly associated with the Bauhaus, his work ranged from designs for buildings, as well as trains, cars, furniture and even teapots – all of which are featured in these pages. One of the more intriguing aspects of this book is how it uniquely reveals Gropius' enormous resilience in some of the most grievous of challenges: war, personal tragedy, financial loss, and political pressures.
Read our review here.
LAYER (Phaidon)
The first monograph of the hot-shot London-based studio founded by Benjamin Hubert provides a candid account of how to make it in the highly competitive design industry. Across six chronological chapters, the book traces Hubert's journey from being a graduate of design to establishing and subsequently expanding a firm that counts among its clients Vitra, Braun, Nike, Bang & Olufsen, and Airbus.
Fashioning Design: Lee Broom (Rizzoli New York)
Exploring the many influences and ideas behind Broom's portfolio of more than 100 furniture, lighting, and accessory design products – some of which are held in the permanent collections of cultural institutions in London and New York – this monograph highlights the way he showcases his work through original and engaging installations, exhibitions, and films.
"I consider myself a storyteller and have always designed emotionally since my time in fashion. It's visceral, but balanced with a focus on materiality, form, and function," says Broom, explaining his approach. "It is also about the double meaning in my designs and the reinvention of what is familiar to create newness. The idea is of almost fashioning design and evolving what exists already into something new and unexpected."
…interested in COOL SH*T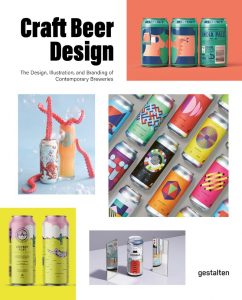 Craft Beer Design (gestalten)
A celebration of craft brewers and especially the designers behind some of the stellar brands in an industry that is springing up like mushrooms around the globe, Craft Beer Design showcases 49 breweries (over a quarter of them are Canadian, including leading-edge brands from Alberta, Ontario, Quebec and British Columbia) creating unique brands that stand out.
Immensely talented artists drawing from the minimalist to the expressionist, using lines, colours, patterns, and illustrations, few rules dictate this exciting, exuberant visual culture and are leading the way in modern packaging design.