This past summer, I was very humbled to be selected among seven international designers to participate in a design workshop at Vignelli Center for Design Studies in partnership with Corning Museum of Glass. The assignment was to ideate, design, and prototype a glass vase.
Working with gaffers and the inflating molten glass in a hot shop, prototyping a vase, pushed me quite out of my comfort zone. My Modernist brain operates in terms of milling, tooling, machining, often on a Cartesian framework. Yet, white-hot gather spooled at one end of a blowpipe struggling with gravity didn't go very well with my past learnings. Glass blowing, happens impromptu and on a much faster pace; there is no time to go back to a drafting table, and make a revision. In short, it is agile, it is acrobatic, it is hot, and it is glassy!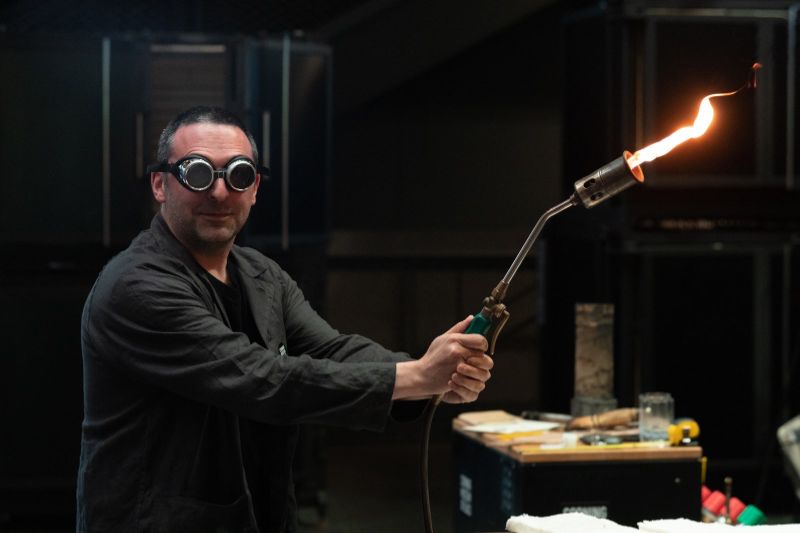 Very challenging, yes. But as a designer quitting was never an option. After a few failing attempts, glass taught me a lesson or two. Only then, I could manage to realize working prototypes. Which are just a few attempts to revisit and push an ancient object a bit further. The prototypes are ambiguous. They do not declare singular utilitarian purpose. Besides holding flowers, they are open to serve at least one more function. They extend invitations to engage one's mind and body in interacting with them. In a Duchampian way, one's participation becomes necessary in exploring and expanding the possibilities — for these prototypes, think of a little museum, a display case, a paperweight, a pencil holder, or a fish tank! What if a vase can rotate or pivot until it finds its balance in relation to its content, the water and the plant? Why not holding a plant other than vertically? How about flipping a vase upside down?
Perhaps, a vase should not settle to be an ornament, a mere decorative container. Perhaps, a vase is a vase if it goes beyond a passive beauty object. Perhaps, a vase triggers some questions and suggests more possibilities. Perhaps, a vase could trap a moment in time. Perhaps, a vase could also become a vessel for your mind, keeping your thoughts fresh and your dreams ever-growing.
It is very humbling to affiliate with the lineage, to participate in the collective effort, to share the obsession, and to search for timelessness, which is the ultimate aspect of an archetype!
Credits
Ideation, Concept & Design: RZLBD (Reza Aliabadi)
Assistant Gaffers: Eric Meek, George Kennard, Catherine Ayers
Photography: Amirali Piroozbakhsh