Wonder Wall: Global Furniture Group New York
A master of directing movement and framing views, Johnson Chou creates a showroom where designers, specifiers and end-users can be inspired by Global's vast offerings.
Good design solves problems. Before a recent renovation, the Global Furniture Group showroom in Manhattan had a problem with flow. The floorplate has an L-shape, with the elevator bay located roughly in the middle, by the bend in the L. When visitors used to get off the lift, they rarely knew whether to turn left, right or go straight. Instead, they would mill about awkwardly waiting for a salesperson to greet them.
Toronto-based designer Johnson Chou resolved the issue with a seemingly simple yet highly elegant intervention: a wall. No, not a wall with a sign saying "walk this way." That would have been too obvious, too easy and kind of dull. "People are coming in from the bustle from midtown Manhattan," says Chou. "I wanted to give them a moment to recalibrate, as well as a visual guide through the space."
For Chou, that translated into a sensual, curving structure fabricated from slats of blond Baltic birch. As visitors arrive, they see calming, natural wood. To get to reception, they simply follow the wall anchored on one end by a striking black desk. Along the short walk, they get inviting glimpses of the showroom through the gaps in the slats.
This is not Chou's first collaboration with Global Furniture Group, having previously designed the company's headquarters in Toronto. For that project, he created a series of vignettes to highlight Global's encyclopedic array of products (the company ships over 100,000 chairs per week alone, in myriad styles, in addition to its countless desks, cabinets and other accoutrement). "I wanted to take a similar approach with the New York City showroom," says Chou, however the two showrooms have different aesthetics: Toronto, which was completed in 2017, is more formal, with high-contrast whites and greys; whereas New York feels warmer, which could reflect its completion in a post-pandemic world.
Chou actually started working on the design before the onset of COVID-19. Still, he notes how the space reflects the evolving nature of office work. "Office designers are moving towards providing a number of experiences that cater to individual preferences," says Chou. "In the showroom, there is a broad mix of more intimate and more open areas, spaces for privacy and for groups. It's all about showing the variety of choices."
Part of the warmth is provided by the furniture itself. "Furniture design is changing so that it's more residential looking," says Chou. "That started happening pre-COVID. The pandemic just cemented that desire for more casual, residential aesthetic." Global's furniture roughly falls into three main categories: office, healthcare and education. Office offers the most choice and is where the vignettes start in New York. The first tableau, a boardroom kitted, is adjacent to reception with handsome yet cozy walnut walls and an eccentric pendant from New York design studio RBW.
Fittingly, it's near a series of other office-appropriate set-ups, including a lunch bar that's nestled into a deep bend in the Baltic birch wall. The bar has its own curves, though is rendered in a juxtaposing, much darker material called Fenix that is scratch resistant.
Close by are open workstations, soundproof booths for solo concentration and something called the "meeting pod" — a brass box open at one side so passersby can peak in. "The meeting pod is like a proscenium," explains Chou. "It can display furniture and there is a slit in the ceiling where a screen can drop down to show videos. Much of the overall showroom is inherently rough. As a contrast, I wanted to have finely detailed objects like the brass pod."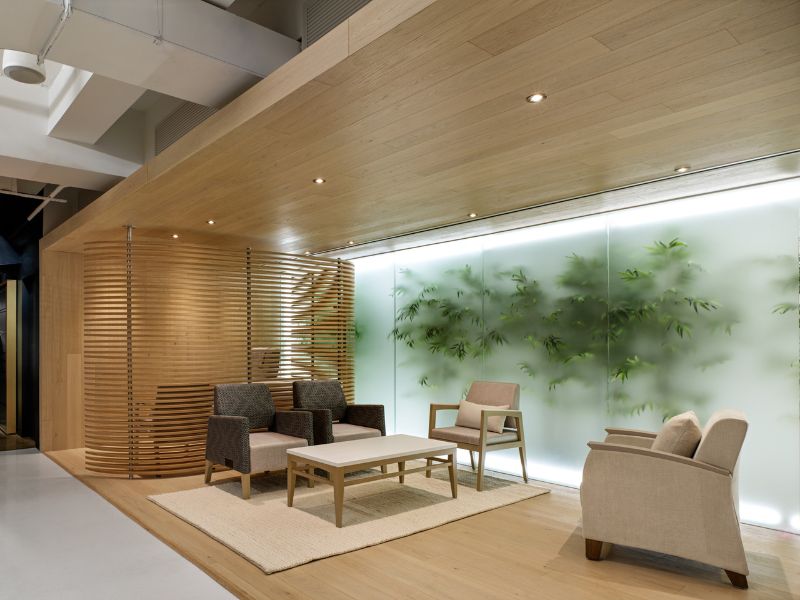 Chou employs other ingenious tricks to mask various "rough" aspects of the raw space. Between the reception and the meeting pod, a series of low-hanging mechanical equipment cluttered up a large swathe of the ceiling. "It looked terrible," says Chou. As a solution, he slung a low-hanging, thin metal frame covered in a reflective white fabric that acts like a mirror, reflecting the furniture below, keeping the focus where Global would want it to be.
Beyond the proscenium, visitors can explore more vignettes, including several for education (seminar spaces and classrooms) and healthcare. Although the Baltic wall from the lobby doesn't wend its way through every inch of the showroom, similar smaller slatted walls show up at key moments to highlight certain special features and give cohesion to the overall design. For example, in the healthcare section the slats wrap a private consultation bay, shielding it from a communal waiting area. The vignette itself is impressive: one wall is lined in milky, backlit glass that sit in front of an ethereal bamboo garden. "To underscore the idea of wellness, we wanted to create the impression of being in nature," says Chou. Escaping to nature, of course, was something many did to cope with the pandemic.
The showroom not only comes at a moment of change for the working world, but for Global Furniture Group as a company. In early 2023 Global's founder, Saul Feldberg, passed at the age of 87. "He was such a generous, charming gentleman," says Chou. "And he did something truly remarkable. It's not easy to start a design brand, let alone one as successful as Global." When Feldberg started Global in 1966, he wanted to create high-design furniture at an affordable price. Like the latest showroom of the empire he created, the concept was seemingly simple. But also like the showroom, excellence in execution made it thrive.
Photography by Ben Rahn/ A-Frame