When Digital Meets Physical, Pt. 1: Exploring Opportunities for Blockchain in The World of Design
In an industry where the ability to mold a physical product is at the core of success, it might not seem immediately obvious how invisible technologies have the potential to add value. Over a series of contributions to Canadian Interiors, I'll be looking at some emerging technologies that have the potential to reimagine the industry, while at the same time strengthening the value of the physical product.
We'll start our exploration by looking at the blockchain, a technology that traces its origin back to 1991, when research scientists were looking to introduce a practical solution for timestamping digital documents so that they could not be backdated. They did this by linking together a chain of computers to independently verify and decentralize the information, thereby ensuring it could not be altered or tampered with.
Now over three decades since it was first conceived, the blockchain has grown into a $10 billion (USD) industry in 2022 with experts predicting it to grow 88 per cent annually between 2023 and 2030, largely due to the incredible versatility that its core technology provides to businesses. While sustainability of the tech has been a concern in the past, let's focus in on some of the benefits and the key considerations required to unlock them.
Protecting the value of a true 1:1 design
For those who've done some pre-reading, they'll know that one of the key benefits touted for using blockchain technology is to protect authentically designed physical goods or even the design IP itself.
The tech allows for the creation of a permanent and unchangeable record of ownership.  By "minting" (the term used for publishing to a blockchain) a design or a product, you can digitize the age-old practice of mailing a design to yourself to timestamp it, while also attaching all proof of your design work to the Non-Fungible Token (NFT, or token) itself, creating a complete record. This means that the ownership of the item (or design files) can be traced back to its original creator or manufacturer, making it much more difficult for counterfeiters to pass off fake goods as the real deal.
This immutable record can also help to prevent the sale of stolen items once a design has been purchased. A timestamped blockchain record makes it much harder for thieves to sell stolen goods as ownership of the stolen item can be traced back to the original owner, making it easier to identify knockoffs and also to track original IP as it's passed between owners.  And of course, this naturally helps to increase consumer confidence in buying items that are irrefutably authentic, while also raising their re-sale value.
But as with anything, there are a few catches…
While the blockchain is a strong tool, it can't supersede the intricacies of intellectual property law, which is always evolving. In recent weeks a seminal legal judgement has been made in the case of Hermes vs Rothschild, where an artist, Mason Rothschild, created an NFT interpretation of the classic Hermes product, the Birkin bag. The artist likened his "Meta Birkins" to Andy Warhol's famous use of the Campbell's soup can and open to artistic interpretation. In the end, the judge's decision defended the intellectual property of Hermes and awarded them damages, but Rothchild's lawyers have said this challenge is far from over so the industry will wait as this important case continues to unfold.
Beyond the always-evolving legal precedent, there are also procedural considerations. For anyone looking to mint an NFT to protect authenticity of a physical piece of furniture, it's necessary to create a unique identifier to tie the product to the corresponding token. Ideally this is something physically embedded in the product to maximize the security of the authorization, but minimally it should be something like a unique order number that allows a consumer to tie their specific purchase to a specific item.
Firms are already beginning to re-think design cycles to look for opportunities to incorporate unique identifiers into product design. Some are going as far as to embed NFT chips into their products to solidify the connection of the product to its token. In 2021, furniture manufacturer Moooi created an embedded technology which they called the Button in their Hortensia chair, designed by Andres Reisinger, which was an early look at how this might play out from the standpoints of design as well as storytelling.
Consumer trust… and consumer connection
Above all, the confidence and trust of the consumer is paramount to the efficacy of the blockchain as a tool. Recent media stories have created confusion about the blockchain's ties to crypto and its environmental impact (more on this in future articles), but the bottom line is if consumers are to purchase an authentic design that's tied to a blockchain-backed token, they need to believe in the benefit to them. This quickly becomes an important challenge for the industry to get on the same page about how to create a true value proposition that includes a level of consistency that consumers can rely on.
This opportunity also extends into the resale market where having these tokens transferred to their new and rightful owner, whether through private sale or established re-seller marketplaces, is essential to protecting the value of the design. Establishing some common approach to doing this in these early days where the industry is only beginning to learn more about the technology will be critical.
Tokens on the blockchain also have the potential to open designers and manufacturers up to a wealth of opportunity to connect their products and consumers in new ways. Loyalty, sales and sustainability programs can be extended or even re-imagined through the connection made with the consumer through the token registration process.
This allows a direct digital bridge to be built with your customers, verified by the blockchain.  While there may be some challenges and guidance required in establishing your approach, the benefits can easily outweigh them with a well-executed program.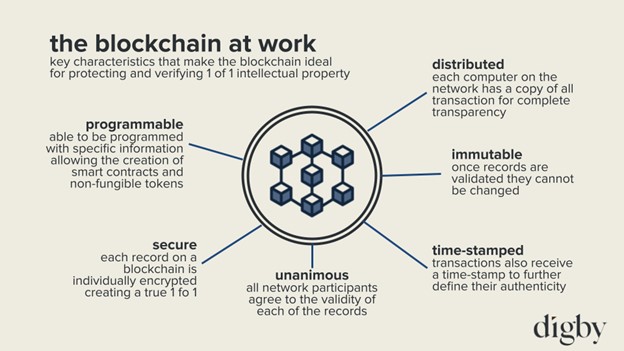 An NFT by any other name
Above all these considerations, in order to truly be adopted by the masses, this technology will need to be normalized by its utility, and subsequently fade into the background.  Do you ever find yourself thinking about TCP/IP protocols, or do you just pick up your smartphone and launch your favourite web browser? This moment isn't here yet for blockchain and NFTs, but it's coming.
Recently users on the social community Reddit signed up for more NFT "wallets" than the entire user base of Open Sea, the world's largest NFT platform. Why? Because they were given a compelling reason to own a collectible, instead of being asked to 'buy an NFT." In our own industry, the Moooi Button was an early bellwether experiment but one that should be learned from, not abandoned
The technology is sound and the consumer experience to get on board can be as simple as filling out a warranty card for a new dishwasher. While there are certainly some key considerations to understand when launching into this space, as with anything, the most important is to consider the value you're looking to bring to your business and your customers and find the right tools to help make it happen. Increasingly, the blockchain and NFTs have the potential to be among those tools.
---
Andrew Lane is a co-founder of design industry-focused consultancy and technology firm, digby.  He's also a co-founder of the Interior Design Metaverse Architecture & Design (MAD) Awards and co-host of the Web3 architecture &  design podcast on the SANDOW Surround podcast network, Barriers to Entry.