Study Aids: The Future of Educational Common Spaces
Scholastic institutions call on Gow Hastings Architects to upgrade the design caliber of their campuses, realizing it is a key tool for recruiting and keeping both students and faculty.
COVID-19 laser focused designers on rapid responses to reducing the spread of pathogens and adapting treatment facilities. Adjusting offices, commercial venues and distant work soon followed. As the pandemic lingers, attention in post-secondary education has shifted to enticing students back on campus, all under the shadow of troubling patterns indicating declines in mental wellbeing.
Ensuring returning students feel comfortable is core, while accommodating students who prefer distant learning complicates the response. When the pandemic is finally in the rear-view mirror, today's on-campus/distant learning ratio will evolve, demanding facility flexibility.
A 2021 KPMG student study found a strong majority supported their institution's pandemic responses, but an overwhelming percentage believe the pandemic has fundamentally changed their expectations. Technology, from robots to holograms to virtual reality, will become commonplace. Yet 82 per cent want a stronger focus on mental health hurt by a loss of community. This strongly suggests social isolation and distancing from academic mentors requires physical environments that reinforce safe social and learning interactions. Students want "a more personalized experience that encompasses the student as a learner, a digitally savvy person, and a customer."
Four recent projects by Toronto-based Gow Hastings Architects provide insights into how design can encourage a return to campus life. Since the University of British Columbia grads set up their firm in 2002, partners Valerie Gow and Philip Hastings, along with design director Jim Burkitt, have completed over 450 university, college and academic projects.
The Université de l'Ontario français campus located in Toronto's Innovation Corridor was designed during the pandemic, however the others – York University Osgoode Professional Development; Niagara College Welland Campus Student Commons; and Fleming College Sutherland Campus A-Wing Building in Peterborough, Ont. – opened in 2019. Why include projects designed and opened pre-pandemic? The three firm leaders stress that while the pandemic has honed and intensified demands for specific practices, the key to enticing students back is student-centric spaces that actively engage them as the primary client. This includes strong visual branding that reinforces student's consistent institutional attachment as found by KPMG. Such design attracts both top student and faculty.
The two pre-COVID-19 projects, they argue, already realize many required transformative elements. In summary, the firm's mantra is not a house style but a vibrant integration of architecture, interior design and graphics that creates "tailored, purposeful and playful" outcomes, says Gow. In addition to recognizable graphic branding reflecting institutional character, Niagara and Fleming focus on creating dynamic and engaging student spaces. Intuitive wayfinding elements facilitate easier movement while traditional single use circulation corridors are eschewed for multipurpose learning, socializing and upscale service areas. Transparent classrooms and labs are now visually open to these spaces.
Daylight is maximized, exterior transparency is introduced to bring in the outside and strong campus gateways are introduced. In addition to sparkling white, bold colours ensure animation and visual variety. Finally, common and budget-conscious materials, such as LED strip lighting, coloured felt, large porcelain tiles and rich-toned woods are creatively employed.
While carried over into the later projects, other pre-pandemic elements are now an easier sell. These include in/out doorway separation, accessible outdoor spaces for learning and socializing and use of infection abating materials previously employed in cooking and health labs. Examples include large antibacterial tiles and materials and antifungal grouting. Flexibility in all spaces to reduce or reinstate distancing when appropriate remains vital. Not surprisingly, there has been a greater demand for seamless integration of digital technology allowing for hybrid learning as well as podcasts and eventually metaverse-type experiences. A significant inversion of the faculty/student ratio on campus means fewer individual faculty offices. Instead, unassigned touch-down spaces, often along desirable window locations are provided.
Niagara College Welland Campus Student Commons
Student Union driven, the Commons opens up and revitalizes a cramped in-between space, the product of decades-long building cluster creep. Part transformation, part new build the student-centric design creates a vibrant, light-infused hub providing different forms of social and learning spaces with a high-end cafeteria. By pushing the structure up, six-foot high clerestory windows are introduced below a rich wood ceiling. Natural light is teased in, then magnified by a broad band of mirrors on the opposite wall. Extensive interior and exterior glazing open the myriad of spaces to the exterior. Large, blue dot chevrons on the walls and glazing reinforce the college's "blue" brand and provides key wayfinding cues.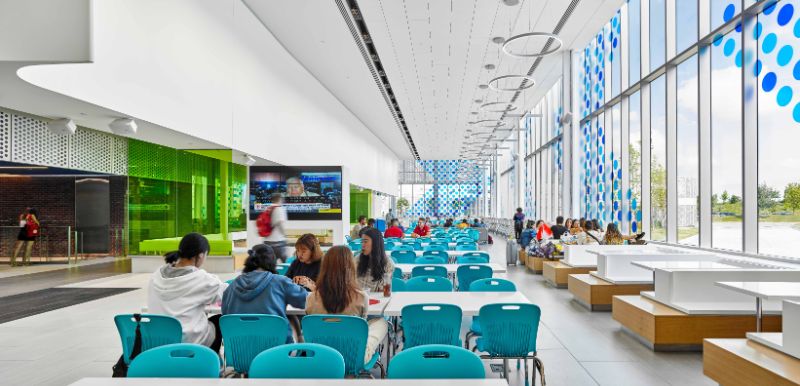 Fleming College A-Wing, Sutherland Campus
Ron Thom's 50-year-old A-Wing on the Sutherland Campus has been completely transformed using the original structure but re-clad in white and yellow aluminum panels. Some are folded accordion-style to increase textural depth while others are perforated to provide filtered light to the reconfigured classrooms and labs.
The building's combined entrance and stairs for the three-level building is fully glazed on one side. The original delivery bays at the structure's middle were ripped out and restructured to accommodate a multi-space student hub. Natural light spills into all levels of the hub through introduced ceiling breaks. Transparency to the outside, lacking in the original, provides striking landscape views. Like Niagara, light-hued Italian porcelain is used on the floor. The result is a much brighter student-centric building providing an engaging gateway imbued with clearer circulation supported by intuitive wayfinding.
Université de l'Ontario français Campus
Located next to Toronto's Gardiner Expressway, the campus is designed to take advantage of a large floorplate on the second level of a new-build tower's podium. The leased site offers excellent natural light with floor-to-ceiling windows augmented by a skylight. An exterior terrace overlooks the entrance courtyard while a second open courtyard is accessible off a classroom. 25-foot floor-to-ceiling heights create a sense of spaciousness which the architects have left largely unimpeded.
The core accommodates the architects' signature fluid and varied student hub wrapped around a large gap through which ascends the entrance escalators. A spectacular corner agora provides tiered telescopic seating fronted with full glazing overlooking the harbour. Similarly, many classrooms are fully translucent on their exterior facing side. These open onto perimeter circulation lined with window workstations. Faculty have similar touchdown desks overlooking the city. Wayfinding in this complex spatial composition is primarily handled by bespoke "ladders" of connected LED lights suspended from the high ceiling.
York University Osgoode Professional Development
Osgoode, also in a downtown Toronto new-build, is a single floor campus, but 26-storeys up. Like the other three projects, it is designed not just to provide good academic classrooms, but as a networking environment facilitated by dynamic social gathering areas. At the floor's centre is a colour saturated multi-space heart for socializing, networking events and study, all open to panoramic city views. An adjacent classroom featuring an operable partition can be opened to expand the community hub.
This project exemplifies a state-of-the-art hybrid learning model in which the latest networking and wireless communication technologies are seamlessly integrated. This includes a multimedia studio and green screen as well as the technical capabilities for simultaneous in-person and remote learning.
Campuses will never fully return to their pre-pandemic models, in part because the model was already changing. But with overt playfulness, flexibility and technology, coupled with reassuring pandemic elements, student-centric design will smooth the transition to an eventual return of most students.