Coverings 2023: Got You Covered
Exhibitors representing 40 countries showcased innovations in the tile and stone industry over a four-day event.
The Orange County Convention Center in Orlando, Florida was abuzz for Coverings 2023, North America's largest ceramic tile and natural stone trade fair, as professionals, buyers and public alike toured the three primary pavilions of show sponsors Ceramics of Italy, Tile Council of North America (TCNA) and Tile of Spain, to be inspired by the newest and most innovative tile, stone and installation products.
---
Astrum Porcelain Tiles | Ceramiche Supergres
This porcelain stoneware tile collection is inspired by one of the most widely used materials in architecture: travertine. Astrum offers a reinterpretation of durable, compact natural stone with a modern taste that is sensitive to the needs of contemporary design.
Matisse Moonstone | Anthology Tile
This is a new addition to the Artistic Impressions collection and was inspired by old-world traditional hand painting yet created by an inkjet process and made in soft hues with perfectly on-trend colours and a unique satin finish.
 Millennium Porcelain | Wonder Porcelain
This series combines the appearance of Byzantine mosaics with the trendy look of terrazzo, features a chic style with a lappato finish and is offered in white and dark grey colours with cool grey tones throughout each.
Pluriball | Iris Ceramica 
Part of the Diesel Living collection, this line is inspired by the look and feel of bubble wrap, perfect for a plastic world where everything is delivered to our doorsteps.
Rok Candy | AlysEdwards Tile & Stone
An organic collection of artistically designed terra cotta wall tile is hand pressed into molds forming hills and valleys; the clay is fired, hand glazed and fired again creating a sugar crystal effect.
Songbird | Florida Tile Inc.
Several design motifs are at play in this handcrafted tile collection all at the same time: undulations in the surface are reminiscent of both "rippling water, drawing your eye and creating a sense of calm" while also "a soaring journey through nature."
Vulcano | Azteca Products & Services
Inspired by the movements of incandescent lava and produced by hand, the most intriguing part of the collection is the "gloss-matte" and "double gloss" contrast techniques.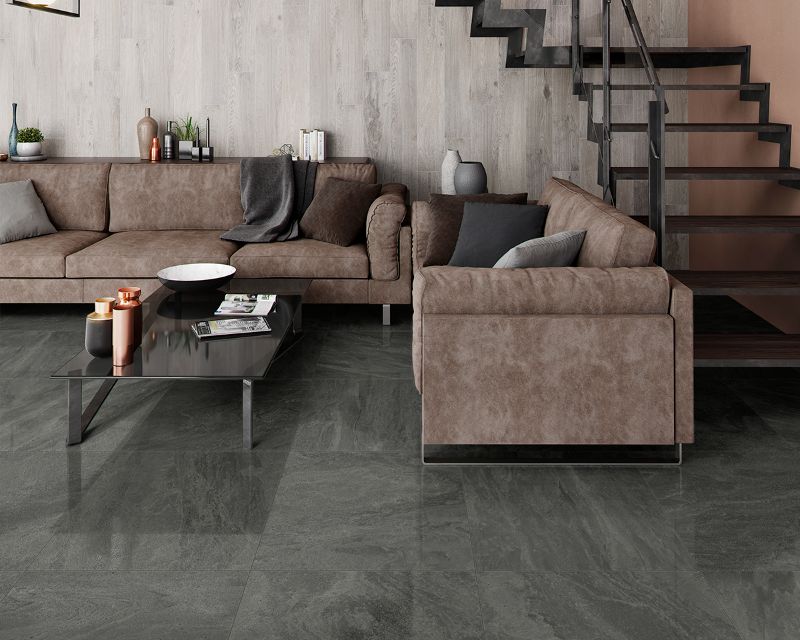 Kerdi-Drain-F | Schluter-Systems
This new drain system has been specifically designed for floors without a slope, and features a flat, narrow bonding flange with an integrated Kerdi collar.

The Coverings Installation & Design (CID) Awards were handed out to projects that demonstrated "outstanding accomplishments in the design and installation of ceramic tile and natural stone for residential and commercial projects." The 17 winning projects were completed between January 2021 and December 2022, and the lone Canadian representative in the group was Calgary-based LFT Professionals Inc. for their Mansion in a Rockies project, a winner in the Residential Ceramic Tile – Installation category.