Get the recognition you deserve! Enter the 26th annual Best of Canada!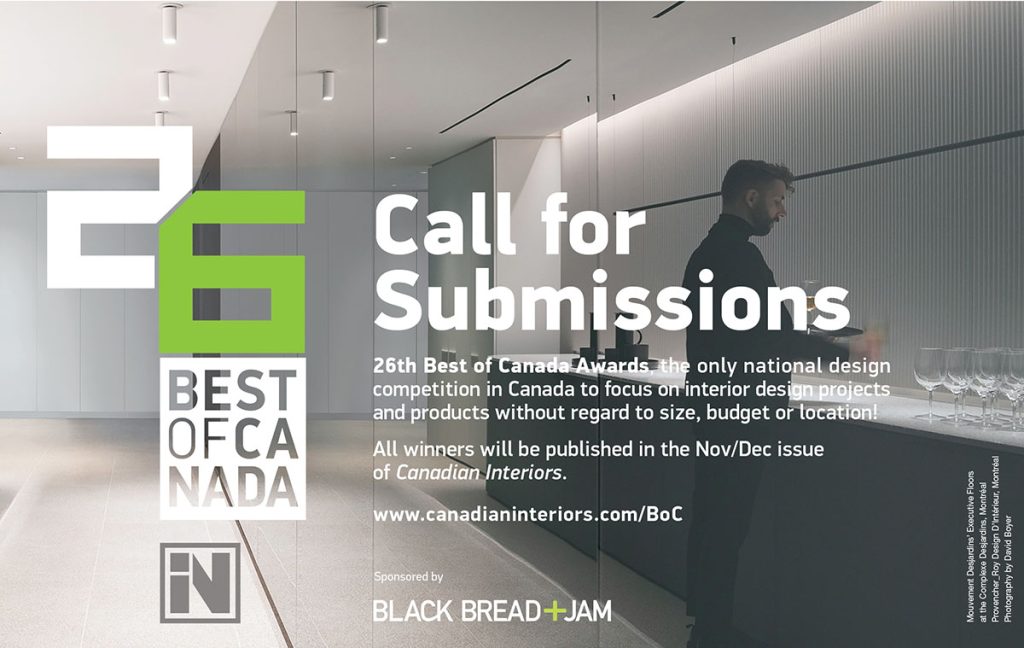 You do great work, and your peers in the Canadian interior design industry want to see it! Canadian Interiors is proud to officially open the doors to the annual Best of Canada Awards , this country's only design competition focusing on interior design projects and products without regard to size, budget or location. Submissions are welcome from interior designers, architects, landscape architects, decorators, crafts persons and design students.
The deadline to submit your Project and Product to the Best of Canada Awards competition will be here before you know it: submissions are due on Tuesday, September 5, 2023.
Every year Canadian interior design seems to be upping the ante of what is expected and what is delivered. Need proof? Take a look at some of the winners from 2022's Best of Canada.
For example, the judges debated vigorously and at length until finally nominating the Mouvement Desjardins Executive Floors at the Complexe Desjardins for Project of The Year designation and gracing the cover of the November-December 2022 issue. Jurors were impressed by a project that deftly addresses what matters most right now in the workplace: diverse spaces that offer a variety of experiences for people to perform at their best independently and collaboratively.
In the Products category, the honour of Judges' Pick going to Appareil Atelier for Chaise Elsie, made in collaboration with l'Autre Atelier for Les Jardins de Métis. Jurors were intrigued by a deceptively complex chair that keeps all of its hardware discreetly unseen, a very self-assured seat that makes great design look effortless.
You can view an archive of more past winners here.
For more information on the awards, and to submit your entry, click here.
All winners will be published in the Awards issue of Canadian Interiors in November. In addition to being featured on the cover of the Awards issue, the Project of the Year winner will also receive an expense paid (flight & hotel) trip to Italy in October to visit the Venice Architecture Biennale and tour the contract furnishings region of Pordenone, thanks to the generous sponsorship from our friends at Black Bread & Jam.
Entries must be received via the online entry system by Tuesday, September 5, 2023 @ 11:59 pm PST. For more information on requirements, deadlines and submission fees, please visit the Best of Canada webpage.