Sip Happens: Four well-grounded caffeine stops
Four firms produce new café projects thoughtfully designed to maximize commercial traffic and create effective sales while remaining friendly and accessible.
From Charles Rennie Mackintosh's Scottish tea rooms, on the cusp of Art Nouveau and Modernism, to Starbucks, arguably the prototype driving the trend to the casual clubby layout of today's post-pandemic hybrid offices, and even the title of MSNBC's Your Morning Joe lefty politics commentary show, the coffee shop and ye olde tea shoppe remain archetypes of community engagement.
This survey of four design firms from across Canada creating coffee and tea cafés is timely because business in the market sector has never been brisker. "In big cities, boutique high-end coffee shops have become a cultural thing," says Nicholas Waissbluth of Waissbluth Architecture Office in Vancouver. "Because there are so many, each needs to be unique. Even big corporate coffee shops realize they must compete against the boutique across the street for the young customer who will spend $5 for a latte."
Who knew, for instance, that Starbucks has different-coloured awnings and signage depending on the level of design in the shop? "There's the typical green one in strip malls; then black awnings for Starbucks Reserve Roasteries, their specialty branded coffee shops; and finally their highest level, with gold on the front window."
5:2:8 Creative Coffee Collective, Ottawa
There are so many "unusuals" about Ottawa-based 25:8 Architecture + Urban Design. Explaining the numeric name, Jay Lim, the firm's founder and lead designer, recalls that just after graduating from Columbia University with his M.Sc. Architecture and Urban Design (having already obtained a MArch from Syracuse), he and a few colleagues entered an international competition to design emergency housing for New York City. "We were all working at firms, so we did this at night and lo and behold, we end up winning. They asked for the name of the firm so they could send us the cheque. We were working 25 hours, eight days a week, so we named ourselves 25:8."
After employment at a Who's Who of practices—Kohn Pedersen Fox, and Pei Cobb Freed in New York; then KPMB, and MJMA in his native Toronto—he moved to Ottawa to join Stantec, then Perkins & Will before leaving to hang out his own shingle while teaching as an adjunct professor at Carleton University. Which accounts for why, uniquely among these four—or probably any other—design firms, the studio and coffee shop share premises, with concept sketches and maquettes on the eatery's walls.
By 2019, his startup firm was growing and in need of more space for client meetings. However, the team (now five) didn't want to work in an office. They found an old garage attached to a house that was zoned commercial. "It was cheaper than rent, so we picked it up. But the garage had been fit up as a restaurant in the '80s. We thought we'd open an independent coffee shop and if people come great; if not, it didn't matter because it's our office where we mentor students and offer them part-time coffee-shop staff work." Its name, 5:2:8 Creative Coffee Collective, mirror-images the company logo. Inside, custom modular plywood furniture recycles leftover material from 25:8's construction sites.
Also unusual is 25:8's practice niche, aimed at "The half of the one per cent of the city that's ready to do something fun and different; they know we'll play ball with them," says Lim. "We just finished a house with a three-storey rock-climbing wall inside. Our cottage for a client with young kids is red with a slide coming off the roof." Flight Deck, a house for bird-watcher clients overlooking a big open field, features a blind that touches the ground lightly with a graceful central V-shaped support, evoking a sailboat with a big keel in profile, rather than corner columns. "We might as well become kings of the capital and push the design agenda here in a way that no one else is willing to right now."
Camellia Sinensis Teahouse, Montréal
Camellia sinensis is an evergreen shrub whose leaves are used to make tea, and a Québec specialty tea-shop chain. The newly remodeled flagship on Emery Street in Montréal's Latin Quarter is a serenely Wi-Fi-free space with a palette of white oak, brushed brass and muted greens. The imaginative display wall behind the main counter comprises tea-storage cannisters floating on rods. Cast-iron, glass, porcelain, raku ceramic and Japanese tea-ceremony vessels march along retail shelving like miniature sculptural objects. At the tasting bar, customers can compare two teas served in a professional tasting kit.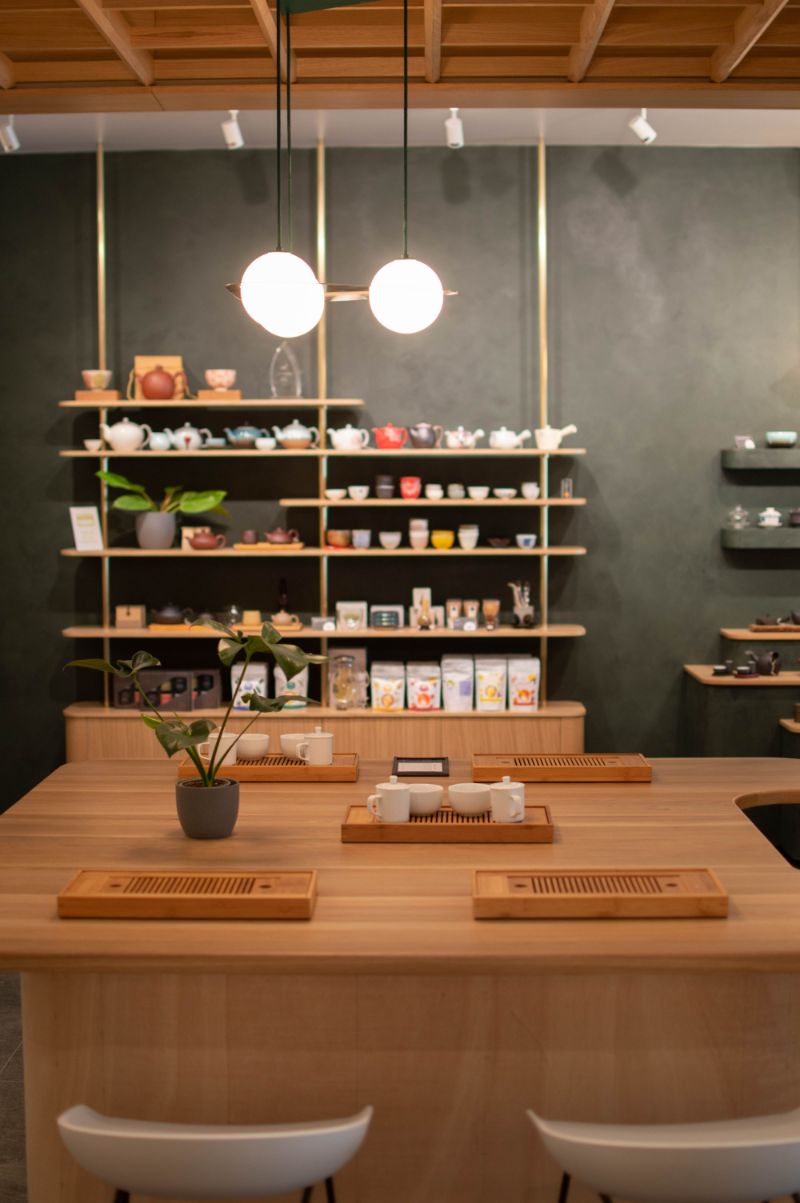 Local design firm Machine won—to strain the hospitality metaphor—the soup-to-nuts commission, incorporating architecture, interior design and industrial elements. "We designed, hand-made and installed everything but the lighting," says Joël Desmarais, founder, designer and project manager at Machine. His vertically integrated, multidisciplinary business operates in a 6,000-sq.-ft. building in the Rosemont neighbourhood that boasts an office, metal shop, wood shop, paint booth, stockroom, kitchen and adjoining garden.
Machine had no predecessor retail project in their portfolio. But their industrial/temporary space aesthetic evidently sealed the deal. Desmarais, an artist, cabinetmaker and Université du Québec à Montréal art-history grad, began his career as a set designer for playwright Gabriel Plant's Cube Blanc at La Chapelle Theatre. The budget was $400 "and a lot of energy and sweat," he remembers. He screen-printed advertising posters in his bathtub, bought a sewing machine for the textiles and welded metal at his auto-mechanic brother's garage in the country. The experience, he says, "gave me confidence so that when someone offers a commission, I'm a 'Yes' man. If a coffee shop would like to order three dozen chairs, we're ready."
He started Machine in 2014 and aims to grow his seven-person staff to 20 by next year. The company has two subsidiaries: Kermesse builds temporary structures for events; and Alphabet (the "h" in the logo made of two stacked chairs), an IKEA or Umbra in the making, offering a wide range of furnishings from tables, chairs and wall systems with a hint of Scandinavian influence, and the San Laurent laundry bag ($156), available online and at La Maison.
Giovane Caffè, Vancouver
The term "coffee shop" conjures up images of cozy intimacy, so opening a quick-service grab-and-go Giovane Caffè in the double-height lobby of Vancouver's Deloitte Summit office tower called for remedial design action, ably executed by Waissbluth Architecture Office (WAO), lest customers feel that they're sitting at the bottom of a well. To that end, tiered wooden wall paneling acting as a tall wainscot shrinks the scale into a more snug and user-friendly setting. The grid in the wood screen running along the glass partition facing the main lobby softens the hard edges of the space.
Nicholas Waissbluth opened WAO in 2016 as a solo practice. He made his mark with his first coffee shop, Nemesis, in the much-awarded, Patkau Architects-designed Polygon Gallery. "It keeps on winning every year as the top coffee shop in Vancouver," he says. His firm has grown to five staffers including one dedicated to the growing project roster in Switzerland, including an apartment building and a large brewery. Still, "We do about five restaurants at any given time in the office. I like doing them because the designer gets very intimate with the operator, especially if they're a chef-owner and they're putting their life savings into the project. I'll get phone calls over the weekends or after they're done at 10:00 o'clock at night. You don't get that many projects where you're that close with a client all the time.
"Half of our clients have established coffee shops and they're opening their second or third location. The others are first timers who may know how to pour coffee, but not what it takes to open a business: Who do you call for branding? How do you get a permit? What's the right price point?"
After graduating from Carleton University, he worked in Copenhagen at Dorte Mandrup Arkitekter, whose founder was the subject of the Architecture & Design Film Festival's Another Knowledge. "She's one of the most amazing persons I've ever met. She ran the office more like a teacher than other bosses I had worked with, where you're just executing their design vision. She would give us a problem, we would try to figure out solutions and she would come and do desk crits, saying, 'Let's think about this and about that.' That's how I run my practice today, figuring out as a team versus telling staff to execute my idea."
He adds that around 2:00pm in Denmark, everyone has a few drinks and enjoys the last couple of hours of work together. Dorte Mandrup's office, on the second floor, would socialize with the new architecture firm on the third floor, BIG (Bjarke Ingels Group). "I remember seeing Bjarke. He was in his early 30s and he was a cool guy," Waissbluth says of the soon-to-be starchitect. "His trajectory was going up."
Hale Coffee, Toronto, and Wet Coffee, Oakville, Ont.
Hale Coffee's fourth Toronto location, at Bloor and Church Streets, and Wet Coffee in Oakville exemplify the house style of Toronto-based Sansa Interiors. There's the neutral, natural, light-coloured palette, featuring unstained red oak at Hale, and biophilic or organically curving forms, such as the rounded main bar with natural wood detailing that welcomes customers and acts as a wayfinding element to guide them through the space at Wet Coffee.
Sansa founder Jude Kamal explains that the company name is Sanskrit for charm, poise and attention to detail. She aspires to eco-friendly and sustainable design, as in the base of the Wet counter made of reclaimed brick salvaged from local demolished buildings. Then there's the serenity associated with a lack of clutter. "We believe in lots of negative space. Not every corner of your shop needs to be filled with something. That way, there's a moment of release."
"When I started my business, most cafes had a rustic feel, probably because the owners built it themselves," says the OCAD University environmental design graduate. "We bring a higher level of detail, with super-minimal, clean, sharp lines." She's inspired by nature and tries to convince clients to use real wood and plants in their space "so that it's full of life. Wood and stone are connected to nature; they have water or oils in them."
If her ideology borders on New Age-ee—as in "If you want to look at it from a spiritual side, everything has vibrations and you want to increase the vibrations in a space to make it accommodating"—she's pragmatic too. She embraces holistic design, which she defines as "creating a full, cohesive space that a person can fit into no matter their age, height or health condition, which promotes well-being." By way of example, Wet Coffee's chairs, residential appearance notwithstanding, are commercial-grade and rated for 450 lbs. Should a supersized customer find the chairs too narrow, they can repose on the wide-open banquette.
Indeed, Sansa strives to meet ADA accessibility standards. However, the initials stand for Americans with Disabilities Act, which cuts no legal ice north of the 49th Parallel. "It's not always applied by code here. That's where I always find a gap." Or she may be hampered by an unaccommodating base building as in Wet Coffee, where those with wheelchairs or strollers struggle at the front-door step.
Her three-year-old firm has four staff working on hospitality and residential design. She attributes getting new jobs to social media and being a friendly extrovert. Indeed, she landed her first Hale Coffee gig through casual conversation at an event, where she asked a nearby partygoer what he did for a living and he replied that he was a coffee roaster. You know the rest of the story.
Photography by:
5:2:8 Creative Coffee: Brendan Burden
Giovane Caffè: Andrew Latreille
Hale Coffee: Bruno Belli