The Big Show: finds from Milan Design Week 2023
Be not afeard; the isle is full of noises, Sounds and sweet airs, that give delight and hurt not. Ready to drop upon me that, when I waked, I cried to dream again.

The Tempest: Act 3, Scene 2
When it feels like a whole city has erupted with international creatives gathered and motivated to parade, discover, make deals and grab eyeballs, scenes from The Tempest of bewildered survivors coming ashore after a shipwreck spring to mind. Making sense of the immensity of the city and the show, with a myriad of creatives vying to attract your attention and convince you that it is the most relevant, is at minimum exhausting and at worst dispiriting. But there are diamonds in the rough, and what follows is a small selection of them, grouped (loosely) by exhibition.
5VIE
Avowed lovers of high-impact sculptural interventions, Cosentino Group enlisted Tom Dixon for some wow in Milan. "I've long been fascinated by prefabricated bathrooms inserted into buildings as modules, which was the departure point and initial inspiration behind 'Metamorphic,'" says the British designer, who solely used Dekton to bring his ideas for four installations of varying sizes to life.
Listone Giordano Arena was transformed into an indoor forest not just for the fun of it, but so that researchers could study the nervous system's interactions with nature. Developed by a group of designers, scientists and other interdisciplinary specialists, participants spent 15 minutes along the Neuro Nature path while "neuronal caps" measured the actual effectiveness of this immersive experience in restoring well-being, for example stress reduction, increase of positive emotions and improved attentional functioning.
Superdesign Show by Superstudio
Normally a slam dunk on the MDW circuit, this year's Superdesign Show by Superstudio fell a bit flat. But one outstanding piece was "Italia" by Alberto Gianfreda, a mesmerizing artwork created from fragmented and then reassembled ceramic shards, meant as a nod to the ups and downs of Italy's long-standing crafts industries and in particular the ceramic traditions practiced across the country's 11 regions.
 Rossana Orlandi Gallery
A curio-cabinet maze for design lovers, items here are hand-picked by the fashion legend for her eponymous gallery's 2023 edition of RoCollectible.
Among them, California-based Andrea Claire Studio's Pisces collection of four free-flowing lighting fixtures derives from Claire's love for the ocean and her passion for surfing. Claire's inspiration for the cleverly titled Hilbers, McTavish and Swell chandeliers, and Malcolm sconce stems in part from the mesmerizing ebb and flow of glowing kelp blades dancing just below the ocean's surface.
Continuing the theme of nature-inspired furniture collections, the South Tyrol-based maker Dolomitisch was showing a range of topographic furniture inspired by the mountains. Using an impressive set of tools — from high-tech 3D data analysis and high-precision numerically controlled processes to old-fashioned handmade craftsmanship in wood and metalworking — the results are tables, benches and other unique pieces that interpret mountain ranges from all over the world.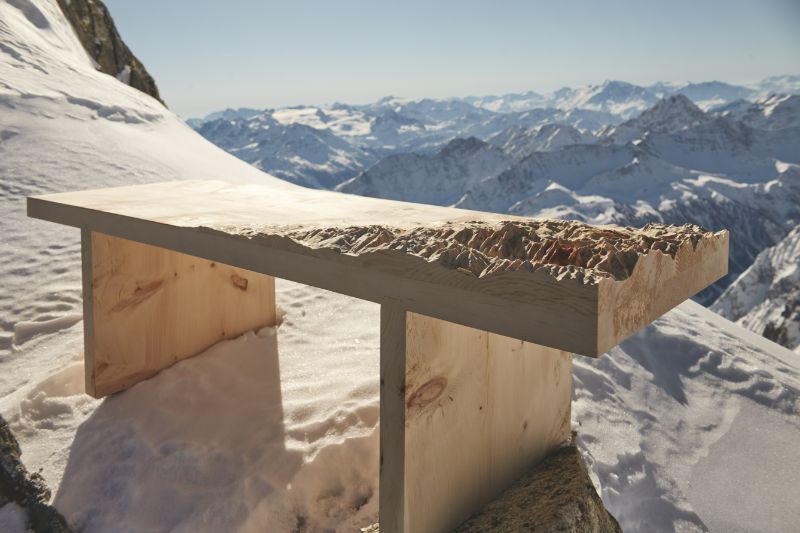 Alcova
Despite the sensory overload that is Milan Design Week, certain projects still manage to rise above the noise, and in the last few years that feat has consistently been achieved by Alcova. Having previously activated a former bakery factory, a cashmere factory and the buildings of a military hospital complex, for its fifth edition Alcova invaded the derelict landscape of Ex-Macello di Porta Vittoria, a former abattoir. Here, over 90 international designers with varying degrees of professional experience were invited to "explore the direction of contemporary design practice," says the brief. Most jostled to demonstrate their cleverness with whatever is considered "new" (be it ideas, materials, processes, representation), but for me it was one understated exhibit that struck a nerve.
"A Valuable Collection of Things" by Stantec was a very simple inventory of objects found throughout the abandoned Ex-Macello site, organized in abstract patterns on both wallpaper and the floor. Stantec's involvement in an exercise as erudite as Alcova may seem odd, but the 15-hectare Ex-Macello site is the future home of ARIA, a massive redevelopment project with a variety of multidisciplinary teams involved, including Stantec.
This exhibit subtly and poetically dwelt on the potential value of resources found in abandoned industrial sites, reminding us that there is always residual intellectual, material, and economic capital in the memory and identity of a place (a phrase Alcova used in its promotional messaging, but felt particularly poignant here). In a town overrun by a stampede to the new, it is important to appreciate the quality of lasting objects and their present and future meaning.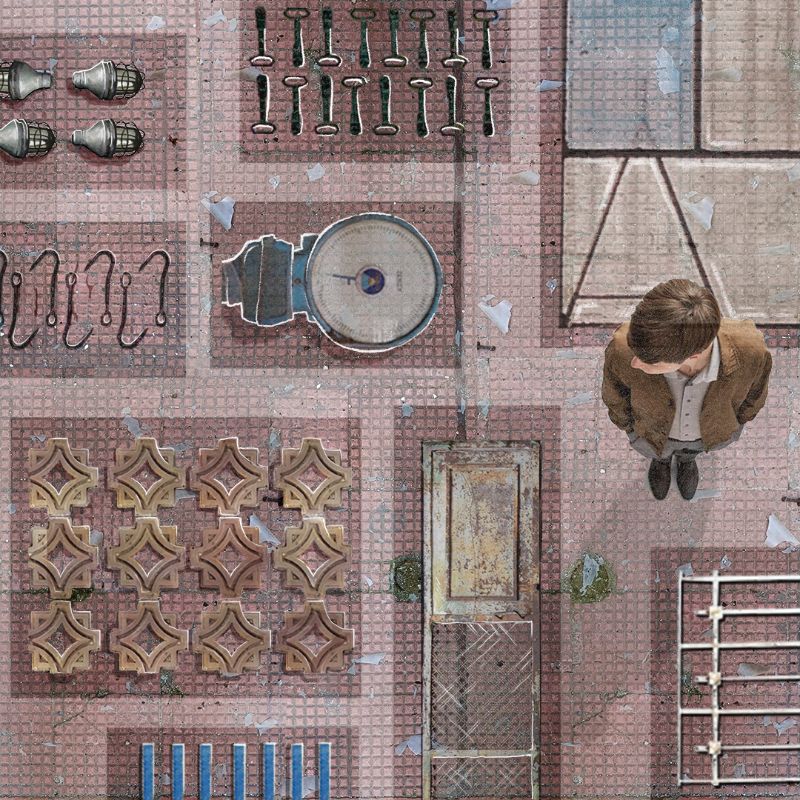 It would be remiss not to at least give a nod to the rest of the projects on display: "From research and experimentation on material, to sustainability and new technologies, from contemporary craft to sensorial design, Alcova presented projects by institutions, schools, established studios and emerging talents from places as diverse as Europe, China, Japan, Korea, the United States, India and Turkey."