Salone del Mobile.Milano 2023: Chair-ish is the Word, pt. 2
The 61st edition of Salone del Mobile.Milano was a success, not just by the numbers (attendees up 15% compared with 2022) but also the breadth and quality of new products.
Salone del Mobile.Milano 2023, back in its original April slot for the first time in three years, was elevated by architect Beppe Finessi's expanded cultural program which brought architecture, art and photography to the fairgrounds as well as the returning biennial Euroluce exhibition devoted to innovative new lighting products.
Twain | Magis
This collaboration between Konstantin Grcic and Hella Jongerius takes inspiration from the classic Safari Chair but goes further to become a study in sustainability. The frame is made of interlocking spindles in solid ash held in tension by a strap and ratchet. Leather armrests are produced using a chrome-free tanning process and the fabric component features unique patterns designed by Jongerius. The backrest tilts with the movement of the sitter, providing a feeling of freedom and pure comfort.
A.I. Console | Kartell
Philippe Starck is forever in search for the pure and basic form of the graphic design element. Here, the console embodies artificial intelligence's search for "the minimum and ground zero of style." Available in white, grey, green, terracotta, and black, the recognizable lines of a larger collection are present, but with a unique central leg that leaves an uncluttered yet strong mark on entrances and hallways.
Airframe | De Castelli
Designed by Pio&TitoToso, this bookshelf is a celebration of the art of hammered metal. Its aerodynamic shape is composed of asymmetrical elliptical loops that support four horizontal shelves while an outer shell is shaped to the structure, creating a micro-architecture that adds refinement and drama.
Fusilli Chair | Rattan de Guadalajara
Alán and Ayrton Miranda's creation offers a cheeky take on outdoor furniture equally suited to any setting. Inspired by the curved shape of fusilli pasta but inflected with a touch of Mexican sensibilities, this chair combines textile seating with an aluminum frame and a backrest design that functions as a cable-stayed bridge, making it both eye-catching and very comfortable.
Meriggio | Flexform
Antonio Citterio utilized an iroko structure for this outdoor collection of an armchair and two- and three-seat sofas, skillfully smoothed, turned, and finished by hand, while a sled-like base rests on thermoplastic spacers for outdoor use. Generously padded seat and backrest cushions, available in a variety of shades, enhance the sofa's retro appeal.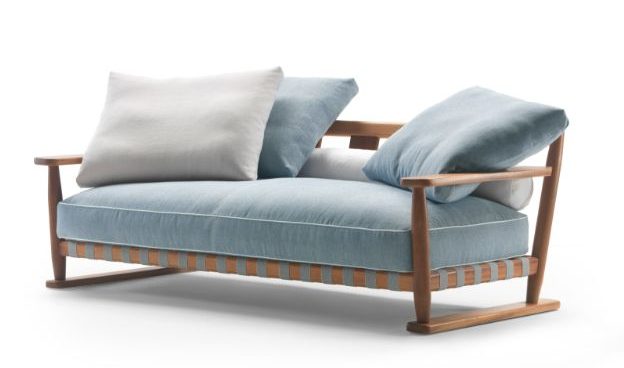 Kalmo | Driade
From Canadian darling Karim Rashid comes a minimalist chair composed of just three elements: two curved ash plywood layers coupled with front legs of solid ash. Understated and simplistic, Rashid's personality still oozes through the four colour options that are available in a two-tone finish.
Knitty | Moooi
This larger-than-life lounge chair designed by Nika Zupanc is a striking conversation piece, with its chunky basket weave made of extra-large 'yarn' resembling giant ship ropes. With the online configurator, you can choose from 15 colours in a quilted diamond pattern and see what it looks like in your home with AR.
Ami | Honoka
Fujiwara Kazuki's stool and lampshade are an innovative fusion of Japanese 2D weaving expressions and 3D forms. The shapes are crafted by dripping 3D printed resin from air, creating a unique appearance that changes depending on the angle of view. As part of the Tatami ReFab Project, Honoka has developed a biodegradable material by mixing resin with discarded igusa (or rush, in English) grass from tatami mats to re-weave the legacy of that traditional object into modern life.