One Step at a Time: LinkedIn's feature staircase
Dynamic feature stair display bridges LinkedIn's new headquarters in Toronto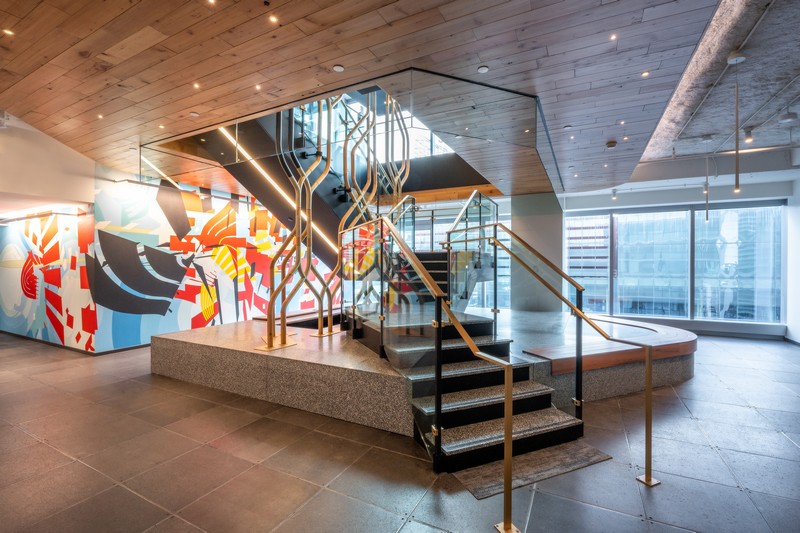 A display by Eventscape for the LinkedIn office tower in downtown Toronto livens up the three-story feature staircase and tells a story through a  rich mateiral palette full of symbolism.
The installation, called 'Hinterland' by creative firm Acrylicize for project architect CannonDesign was fabricated by Eventscape and ascends and intertwines, stretching over 40 feet to bridge the LinkedIn's new headquarters.
Hinterland exhibits a intricate design that winds and curves, accompanied by a transformation of its materials. The internal framework consists of water jet aluminum, with a thickness of ¾-inch, adorned with wood, concrete, and heat-bent frosted acrylic.
Inspired by the historical railway tracks that once occupied the site of the present building, the concept embodies the city's development and the meaningful connections formed along one's professional journey.
The installation features a sequence of cylindrical rails rise and spread out, intertwining and reconnecting as they traverse through the open staircase. The materials undergo a transformation as they ascend, commencing with reclaimed Douglas fir that gradually transitions into metals and concrete, culminating in frosted acrylic at the pinnacle.
A total of close to 70 custom castings in bronze serve as the connecting elements, featuring eight distinct types of junctions. Each track's ends are precisely machined with an overlapping joint, ensuring a secure interaction with the castings.
At the foundation of each track, solid brushed bronze plate covers securely anchor them. The precise installation of the extensive material, spanning hundreds of feet, was guided by parametric modeling, which considered various variables to ensure accuracy.
The stair treads also feature inconspicuous tie-backs that serve both as lateral support and provide a tactile experience. Additionally, the topography of the installation entices individuals passing by to explore its twisting branches that extend towards the stairs and landings, encouraging them to engage with the structure.
The final phase of the journey unfolds as the tracks extend and expand, traversing a ceiling adorned with a felt lining, elegantly embracing LinkedIn's iconic corporate blue hue.
Video credit: Eventscape
---
The installation was coordinated with DPI Construction Management.