The Goods: Office Environments pt. 2 — Safe and Sound
Intentionality and authenticity are appearing as key factors in designing for the younger generations, especially in the office. The same will hold true for the furniture that will fill those spaces.
With Gen Z projected to make up a third of the workforce by 2025 (Manpower Group, 2023 Workforce Trends Report), and older generations retiring later, designers, facility managers, and other specifiers must cater to an expanding community with diverse needs and expectations. Human connection, well-being, and consistent comfort have emerged as priorities for both younger generations looking to establish smart habits and older generations seeking physical longevity as well as a vibrant and active career. As a result, there is a demand for spaces and products that offer opportunities to connect and collaborate while also allowing users to accommodate their personal wellness goals and feel more balanced.
Studies also indicate that individual space is just as important to Gen Z as a community focus in the workplace. For these emerging generations, the desire for more privacy-driven products is on the rise.
Asari Chair | Herman Miller
Designed by Tokyo-based Naoto Fukasawa and inspired by organic forms, Asari's name translates to "clam" in Japanese and serves as a metaphor for the shape of the chair's back. "My goal was to inspire joy and create a new form, ultimately becoming the next upholstered icon," says Fukasawa. "A core part of my design ethos is to simplify the way we live, imbuing each creation with an attraction that makes people feel dear to it, a timelessness and longevity that enhances a human process."
Gather Acoustical | Wolf Gordon
A host of design options are available in this sound absorption panel kit of parts: from colour-saturated patterns and digitally printed, engraved, precision cut, layered, folded or woven textures, they're all here. But the important details are the "by the numbers" ones: formatted as ¼" thick, 4' x 10' lightweight semi-rigid panels and constructed from a PET formulation in 100 per cent recycled polyester and has NRC values ranging from 0.25 to 0.9 depending on the layering.
BuzziPebl Light | BuzziSpace
An LED light strip on the back provides accent lighting while the pebble-shaped ceiling-mounted, ceiling-suspended, or wall-mounted panel absorbs sound waves.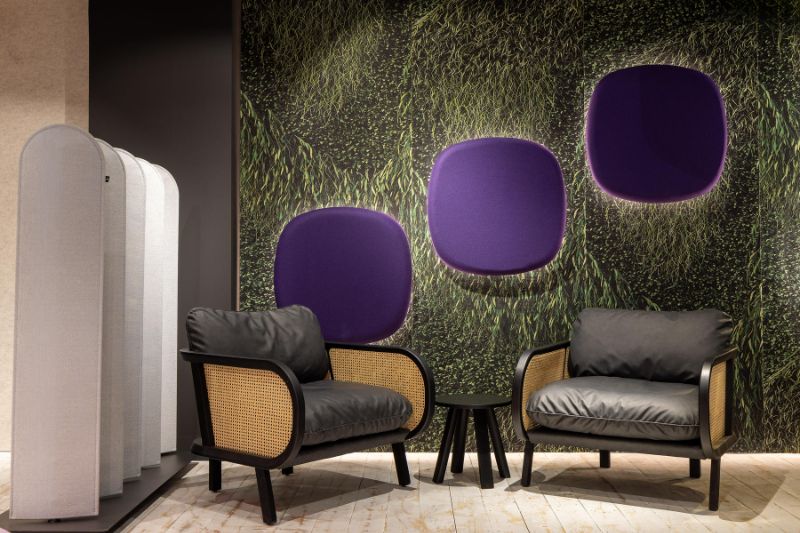 Dash Tile | Kirei
Part of the Tessellate Collection, the exaggerated diagonal design and 24mm thickness provides added surface area to improve acoustic control. The Class A Fire Rated felt panels made from 60 per cent post-consumer recycled PET can also be custom printed using colours or graphics of the designers' choosing.
Focus Quiet Rooms | Schiavello
These engineered booths are fully powered, ventilated, acoustically tight and integrated with customizable finishes. Ranging from Phone Booth to Meeting Room sizes, the larger rooms provide integrated video conferencing technology and best-practice accessibility, and all rooms are equipped with Nura Space, a workplace management software platform that allows employees to book desks, lockers and meeting rooms via a mobile app.
Co.Lok Lockers | Groupe Lacasse
Mountable or adaptable in a 360-degree configuration, meaning these locker combinations can also work as space dividers. A variety of locks, doors, and sizes are available, and in collaborative spaces they can even come with an add-on whiteboard.