Feria Hábitat València 2023: In With the New
From the thoughtful incorporation of sustainable materials to items with unique backstories, this year's edition of Feria Hábitat in València, Spain, featured over 800 exhibitors and thousands of industry professionals and interior design afficionados that gathered to see the latest designs throughout the course of the four-day event.
Here are a few products that stood out.
---
Gatsby Doble Base Table | Vondom
Vondom, known for its outdoor furniture selection, showcased their new Gatsby collection at this year's event, which includes the doble base dining table, designed by Ramón Esteve and recalls Art Déco lighting. Meant to be reminiscent of the roaring '20s (given the name and its backstory), this collection aims to represent the classic American novel's iconic mention of "the American Dream." This table can be a great option for hosting outdoor events since it can accomodate multiple seats.
Mariola Floor Lamp | Ole! Lighting
This sustainable floor lamp is a new design that contains a lampshade with a hand-braided cord made from polyester from recycled plastic bottles. This is part of the company's effort to recyle eight tons of plastic in 2023. This product is resistant to both water and strong UV rays and is available in a range of colours. The Mariola Floor Lamp can also be used as a side table with a PMMA diffuser.
Abiska Ruedas | Boln
While Boln's new collection of colourful seating solutions caught our eye, the Abiska Ruedas (which translates to "wheels" in Spanish) by Stone Designs, was the product that stood out most. This seating solution is made of metal and flexiskin, a technology that consists of plant-based polyurethane foam designed for outdoor furniture in public or shared spaces. The seat combines comfort and style and is available in various colours. It also comes with a side table that can be used for placing home décor accents and the wheels at the bottom make it easy to relocate to other rooms.
Console Table Lunden | Eichholtz 
The Lunden Console Table is a new product that features various storage options. This piece contains three open tempered glass shelves and a sturdy brushed brass finish frame. It can be used as either an entry table or living room console. The piece also features a 1930's art deco style that combines glamour and versatility, making it a great option as a minimalist piece when placed beside a window.
CEP Side Table | Teulat
This new piece called the CEP Mesa Auxiliar 60 (which translates to side table) is 65 cm in diameter making it a great option for dining in small spaces or adding to a room with a colourful accent chair. This table features a slit down the middle which adds a unique element as well as dimension and also comes in black which can make a bolder statement in modern spaces.
Boheme | Myo
The Boheme collection was inspired by non-conventionality, nostalgia in night-walking, hedonism and transience. According to Myo, this new collection was created under the influence of "the duality of both designers earth and fire, chimera and rationality." The pieces in this collection, including this light fixture, aim to combine art deco with a new perspective on modernity that blends ornamentation and minimalism. The combination of shapes and accents on this piece can add a modern twist to a variety of indoor spaces.
Bold by Studiopepe | Sancal
This new collection, designed by Studiopepe, features bold, extra large dimensions (hence the name) and aims to create fluid transitions in interior spaces. According to Sancal's website, the irregular outlines in this sculptural piece "pay homage to the charismatic and casual Memphis style." This piece comes in a variety of tones which can add a pop of colour to an otherwise neutral-coloured space.
TELFS Side Table | Vical
This new contemporary side table, called the TELFS Mesa Auxiliar (which translates to side table) is artisanal-made which ensures each piece is unique. Made from concrete, this table in a grey hue makes it a versatile addition to various indoor spaces. Serving as either a decorative addition beside a couch or in a corner to accentuate home décor pieces, the options for styling this minimalist table are endless.
Cutout Table | Siru
From the bold colours and unique designs and shapes, Siru's booth featured an array of interesting products from their new Cutout collection. This collection uses the art of cutting out metal sheeting, which is held together by a light, tubular structure. The shelves provide a unique storage solution making it a great option as a console table. Since it also comes in a variety of colours, it also makes for a great decorative piece that adds a pop of colour in a living room.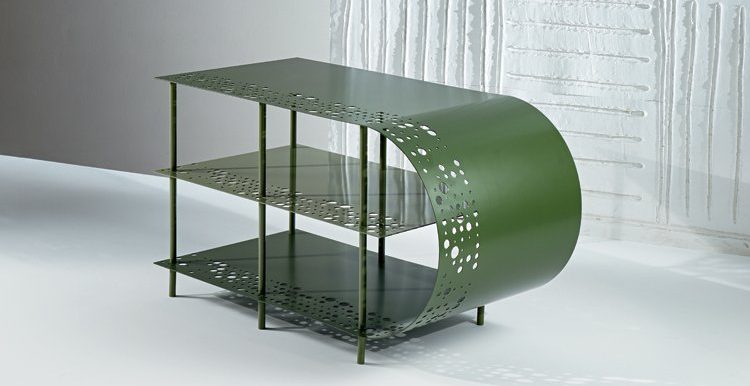 Coffee Table | Thai Natura 
This company prides itself in using natural materials which make each piece feel unique. This new table that was showcased at the fair, combines glass and metal which add a modern aesthetic to indoor spaces. The combination of these materials, along with the texture on the glass, adds a unique element to the piece. Aside from being an aesthetically appealing table that is structured like a piece of art, it can serve a multitude of purposes and be styled in different rooms.
Jump Little Table | TrabÀ
While these coffee tables were designed in 2022, they were shown for the first time at this year's edition of Feria Hábitat. Each table features an original coloured metal base with an outward-extending shape that creates movement within the design. The oval or round tops from this collection can be made of either HPL, marble or glass ceramic and can be customized with different bases in varying shapes and sizes. The Jump Little Table is also available in an outdoor version.
Boom Sofa | Plust
While other items from this collection have already been introduced, the Boom sofa made its debut this year. The sofa features a curved shape that provides a modern look and is part of the collection designed by Marco Gregori. While the Boom collection was launched in 2022, the sofa and coffee table were new additions showcased at the fair. The products in this collection feature designs meant to encourage socialization and conviviality and are made with plastic mixtures. The pieces can also be illuminated from within.