Creatively Compact: Humber Residence
Batay-Csorba Architects designs a new infill project in Toronto's Baby Point neighbourhood.
Batay-Csorba Architects has designed a new infill project located in Toronto's Baby Point neighbourhood, an in-demand location where houses feature sought-after views of the river valley. Obtaining this view while also taking advantage of the small 65-ft. by 20-ft. pie-shaped corner lot both served as coinciding factors in shaping the spatial organization and hierarchy.
Being on a corner site allowed for more freedom to bring natural light into the living spaces, unlike the typical narrow lots in Toronto. In this case, the long side of the site was also the one facing the distant Humber River, which resulted in the opportunity to work in sections to create a dynamic space that opened the house up to let light in, but also soared up to a lookout point to see over adjacent buildings to the river.
The three-storey circulation is isolated and left open and stretches through a three-storey atrium space to arrive at an outdoor balcony carved out beneath the sloping roof.
A transition of materials delineates the significance of this area within the residence, while simultaneously emphasizing the visual connection it shares with the other major public spaces.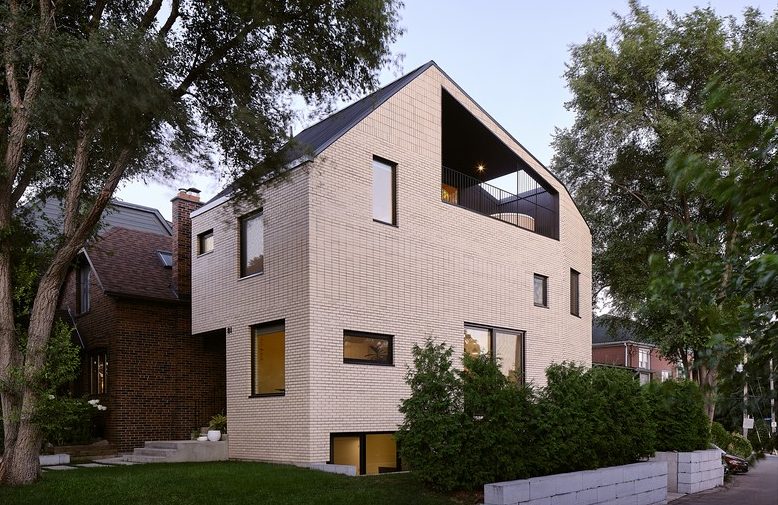 The Ravine house, which meausres 195m² (2,000 sq.ft.), is a three-bedroom home by today's standards and each room is designed to be well-proportioned and comfortable.
There are no walk-in closets, pantries, or unused bonus rooms and corridors and stairwells are minimized. The bedrooms are compact with space-saving built in furniture and wardrobes and laundry is built in off the circulation hall.
Every square inch of space is thoughtfully designed and used to respond to the project's compact circumstances.  A large sense of space is created by exploring verticality as its central organizing principle with the spaces combined to create multi-layered programmed spaces akin to a stacked tree house.
Above the children's bedrooms and tucked into the roof peak, are hidden reading lofts accessed by custom access ladders. Additionally, overlooking the primary bedroom is a small office and music studio.
The home is focused around a central three-story wood clad lightwell, that functions as both a light monitor, a ventilation chimney that cools the home, and vertical circulation. Large south facing doors open at the top onto a covered roof deck with panoramic views of the Humber River, as well as a Japanese soaking tub for taking it all in.
Southern light is collected within the wooden liner which illuminates the interior in an amber glow.
The outside design features historical buff yellow brick arranged in diverse patterns across the facades, along with a steep pitched roof. The front entry and third-floor deck carved from brick feature contrasting black sintered stone panels. Inside, a relaxed and budget-friendly selection of natural materials creates an "anti-museum aesthetic," incorporating recycled strip plank wood flooring, Baltic birch paneling, terrazzo, and concrete.
Technical sheet
Location: Toronto Ontario, Canada
Area: 2,000 sft
Photography: Doublespace Photography
Status: Completed, 2023