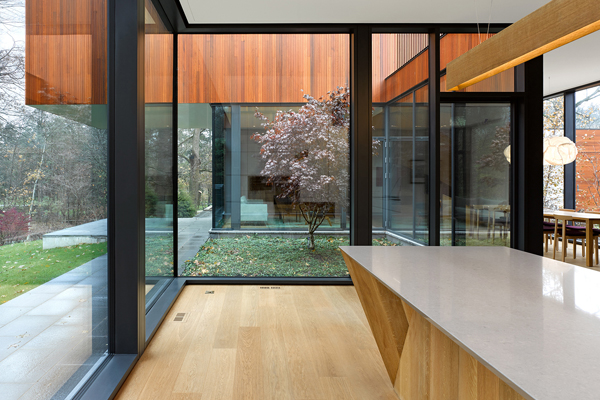 House on Ancaster Creek
Best of Canada Winner
House on Ancaster Creek
Residence
---
A wooded lot backing onto Ancaster Creek near Hamilton is the site for an intergenerational home where the elderly couple can gracefully age in place, alongside, but independently of, their children.
The house was conceived as two distinct residences stacked in a perpendicular, L-shaped configuration. The parents' suite is laid out as a ground-floor accessible apartment with features to mitigate memory loss, such as a master power switch that will shut off the bedroom reading light as well as any stove burners left on inadvertently.
The kitchen occupies a 20-foot-tall pyramidal volume. Even more dramatic is the laminated-plywood spiral staircase whose radius expands as it rises. The white oak railings are structural elements that eliminate the need for a steel frame.
One marvels at the construction budget to execute so immaculately this essay in Platonic forms without recourse to mouldings, and nary a screw or fastener in sight.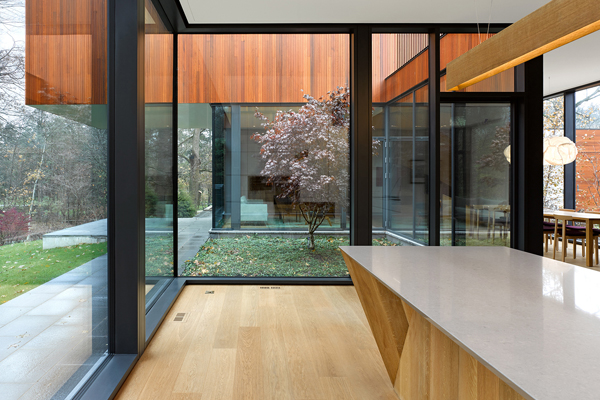 Firm
Williamson Williamson
Credits
Photography: Ben Rahn/A-Frame
Suppliers
Appliances: Bosch
Fixtures: Hansgrohe; Slik Portfolio
Floor Coverings: Weavers Art
Flooring: Moncer Flooring
Furnishings: Belux; Bensen; Sami Kaltio; Speke Klein
Lighting: Klaus By Nienkamper
Staircase: Lennox Stairs and Wood Flooring
Stone: Owen Sound Ledgerock
Wall Coverings: Benjamin Moore
Windows & Doors: Protec
Wood: Oliver Lumber