Make, Build, Repeat: Robot Made
Limited access to robotics education is slowing down an industry already sluggish to adopt the exceptional potential this technology has for the built environment.
Robots in construction and the idea of fully automated building sites is a persistent topic of conversation. While automation has changed virtually every industry, the making of buildings has managed to remain an elusive target. This may seem incongruent with the ever more pressing need for buildings and for more efficient building methods remains high. So why are we not seeing robots on site? One reason is access to training. While most contractors these days are familiar with the presence of new apps and software in phones and laptops, access to industrial robots remains difficult, expensive and mysterious.
Given the breakneck speed of app development and 3D scanning capabilities, it is not difficult to project a future where real-time augmented reality in the latest iPhone will be used to design, estimate, diagnose or even direct on-site decisions during construction. Apps like this are not available yet, but the ubiquitous capabilities of system integration on a handheld device are now intuitive, and the capabilities of robots are not far behind. Industrial manipulators, also called robot arms, are of course larger but also technically less complex than smartphones – and significantly rarer. Like when computers first emerged and were scarce, special classes in "computer science" were necessary to introduce people to the new machines and their potential. Today there is no longer a need to have classes on how to look for a file in Windows. However, there is a distinct lack of training available in robotics within the field of building.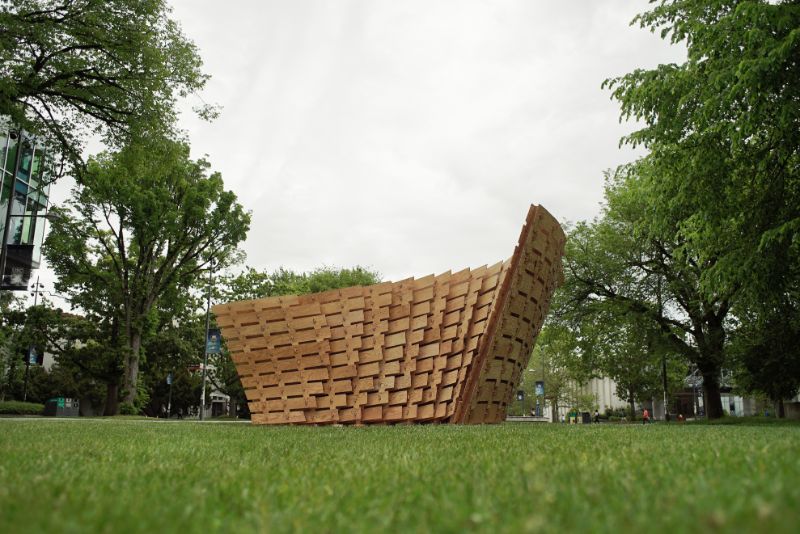 While various colleges in both Canada and the United States offer training for roboticists, this training typically relates to the operation of the robot – its design, movement control and sensor integration – not what the robot can do for any given field. This is like training to use a computer rather than challenging how we might work with it. There are only a few curricula worldwide that have the time and resources to tackle questions of what the building industry could look like if we used the level of system integration that automotive or aerospace design have achieved. This includes places like ETH, UniStuttgart or more locally Michigan. Even places like Harvard or MIT struggle as there is significant disciplinary boundaries and time with this equipment is difficult. Canada, typically, lags behind.
To expand education in robotics, several architecture faculties across Canada have procured industrial robots that are used to train a select number of architecture students – usually at the graduate or PhD level – and training is still rather limited. While Toronto Metropolitan University, University of Toronto and University of Waterloo have invested resources, no school in Canada has a dedicated program to this research and very few have courses or studios that actually engage research in architecture or construction using robotics.
Even after graduation, students have limited access. In fact, limited or no access at all is the norm for most construction industry professionals seeking to use robots. Either a robot is fully occupied doing a routine task over millions of cycles or the robot is in maintenance. The time needed to "play with a robot" – that is, to really investigate what it can do for any given industry – is expensive and requires specialized space and a dedicated robot whisperer (think: someone enthusiastic that also happens to have both robotics expertise and interest in the AED industry).
Despite this gloomy scenario, there is a good business case for their use. Precision, reliability and endless potential for system integration via end effectors has transformed other industries, so why not building construction? In fact, a few industries are adopting the technology: wood fabricators such as Kalesnikoff Mass Timber and Nicola Logworks in British Columbia are using various robotic set ups. As well, prefab wall and housing manufacturers such as Paradigm Panels, Intelligent City and Promise Robotics are using robots for assembly of floor and wall components of wood buildings. These companies are sourcing their staff from universities teaching robotics worldwide, and they are gaining momentum.
Robotics and automation will inevitably challenge how buildings are made and by doing so they will foster long-overdue innovation. Understanding robotics, system flexibility and the potential for higher quality and lower tolerances is key to bringing efficiency to an industry that has barely changed in the last century. We are certainly in need of more opportunities for people within the industry as well as architecture and design students to train in this technology.
---
David Correa is an associate professor at the University of Waterloo School of Architecture and a partner at experimental design collaboration llLab; AnnaLisa Meyboom is an associate professor in the School of Architecture and Landscape Architecture at the University of British Columbia; and Oliver David Krieg is Chief Technology Officer at Intelligent City in Vancouver and an expert in computational design and digital fabrication in architecture.
Photography by David Correa & Shabaan Khokhar
Film Production by Shabaan Khokhar